HOST
Polly Checkland Harding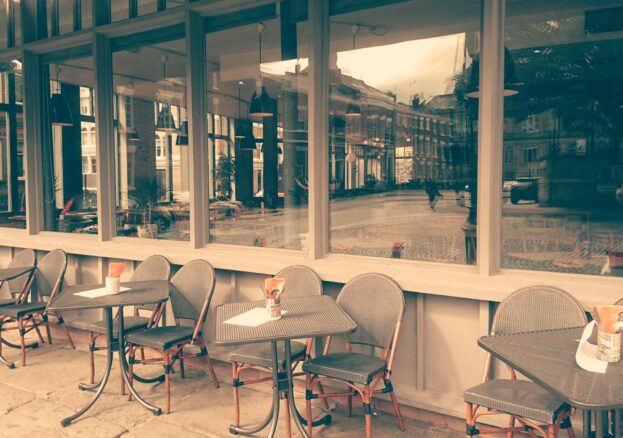 Host, a pan-Asian restaurant on Liverpool's Hope Street, offers an unexpected welcome.
It's hard not to be charmed by the name. Host: the welcoming face at the door, the provider of great grub and easeful seating. What makes a good host? It's a delicate balancing act between cherishing the guest, making them feel special, treated, a tiny bit like the Queen – and encouraging them to "feel right at home, ma'am." What's interesting about Host, a pan-Asian inspired restaurant on Liverpool's Hope Street, is that it's like unlike any house I've ever been to, and yet it pulls off the trick of being welcoming without a hitch.
How often, for instance, do you find Thai, Chinese and Japanese gastronomy dished up amidst gently 1950s décor? At Host, there are textile-print lampshades and orange napkins, splay-legged wooden chairs and coat hangers with those coloured bobbles you often see on retro clocks. The menu, on the other hand, is a far cry from spam and melon ball cocktails: the savoury side boasts curries, stir fries and delicately steamed fish. The deserts, like Simon Cowell dancing salsa (and dancing it well), take British classics and give them an exotic twist: their sticky toffee pudding is flavoured with tamarind, their Bakewell tart reinvented with orange, cranberry and hazelnut. And weirdly, like the mix of ingredients, the pairing really works.
The menu is organised into big and small plates, terms that – is it just me? – always seem like they might just lay out a sizeable circle of ceramic in place of actual food, and you'd still have to be terribly nice about it. You feel like they wouldn't here, though – partly because of the care the list shows to just about anyone who might rock up at their door. The range of vegan, dairy and gluten free options is impressive, whilst there's no shortage of protein for the carnivores. In fact, the only course that the animal-product intolerant might struggle with is desert: let's admit it, a Host sorbet just doesn't stand up to the luxury of a white chocolate and ginger cheese cake.
This is also where the well-judged service came in: rather like visiting a friend, the staff pottered around comfortably while we ate, staying just distant enough that a lady could pay proper attention to her brownie. And what a brownie: not just any leaden cocoa slab, this was a cashew and white chocolate loaded square of indulgence, mercifully offset with good old vanilla ice cream.
So, Host's range, location (it's a pleasant wander away from both the newly opened Everyman and classic watering-hole The Philharmonic Dining Rooms), and friendly feel make it an appealing visit – although, unlike bobbing over to a mate's for dinner, it doesn't come for free. But then, how many of your friends can offer you eighteen different main courses? This place is worth the bill at the end.