Free State Kitchen
Christina McDermott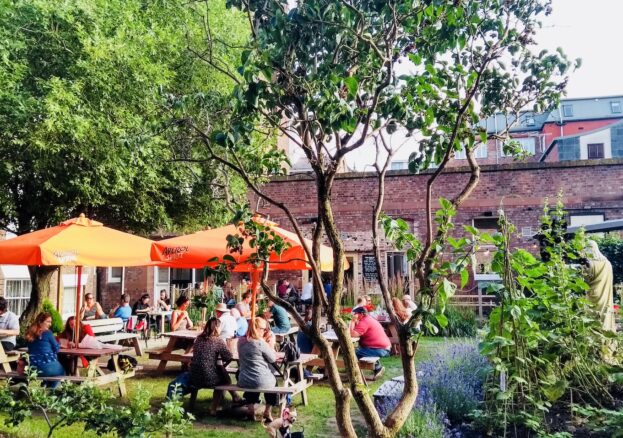 With its large garden and passion for fast food done well, Free State Kitchen is a lot more than just another burger bar.
As soon as the sun comes out, thoughts tend to turn to one thing. Namely, where the nearest decent beer garden is. While you could be forgiven for making a beeline to the motley collection of grotty garden furniture round the back of your local, we'd suggest venturing into one of the hidden corners of Liverpool's city centre instead. Situated behind Hope Street is Free State Kitchen's garden; a pleasing, verdant space where you'll find slices of blueberry pie, fairy lights, picnic tables and a statue of Jesus that bears a rather unsettling resemblance to one of Doctor Who's weeping angels.
Free State Kitchen is so called because it's on Maryland Street, and as we all know (ahem), the US state of Maryland is known as "The Free State". This little place has earned a great reputation (and we do mean little; while the garden space is enormous, the actual dining area inside is somewhat compact and bijou). Much of the praise is for its pies, pulled pork and excellent homemade pickles, a giant jar of which comes with every order.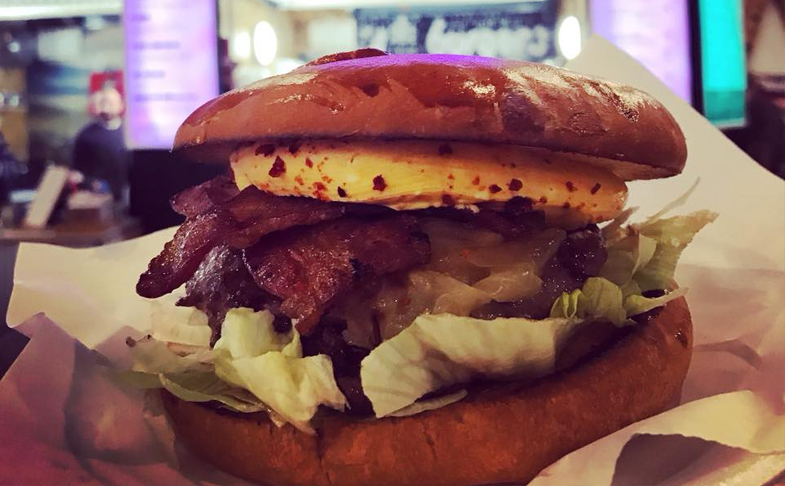 According to owners Kate and Gary Hughes, the guiding idea was to bring laidback cool to Liverpool's dining scene. Inspired by restaurants they'd seen on various travels, from Brixton to Baltimore, they enlisted the services of Dan Jones, a rock n'roll chef who has cooked for everyone from Westlife to The Wanted, and worked with some of Liverpool's finest creatives to give the place an understated vibe that reflects a certain stateside chic.
The Free State element of Free State Kitchen is also evident in its menu. Almost everything it serves up is associated with a location on the Eastern Seaboard, from New England to Florida. There are sweetcorn fritters and crab cakes, both of which are sublimely seasoned with pinches of Old Bay, and a "Scooch" sandwich ("Baltimore's No.1 sammy!") which contains a selection of Italian deli meats, Prima Donna cheese, sweet peppers, roasted red pepper, olive oil and balsamic on a griddled ciabatta roll. And that's before you get to the delicious Buffalo wings (arguably the best in the city), gigantic burgers and homemade pastrami. Then there are the desserts – think gigantic slabs of Key Lime Pie and ice cream sundaes that come swimming in hot fudge sauce and always have a cherry on top.
Don't forget that amazing garden. The grounds of a former convent, Free State Kitchen intends to use the space to host a range of fun activities throughout the summer months, from clam bakes and pie-eating competitions to children's gardening classes and acoustic gigs. With its gorgeous decor, friendly service and emphasis on fast food done well, Free State Kitchen is a lot more than just another burger bar.