Busaba Eathai Mancheser
Ian Jones, Food and Drink Editor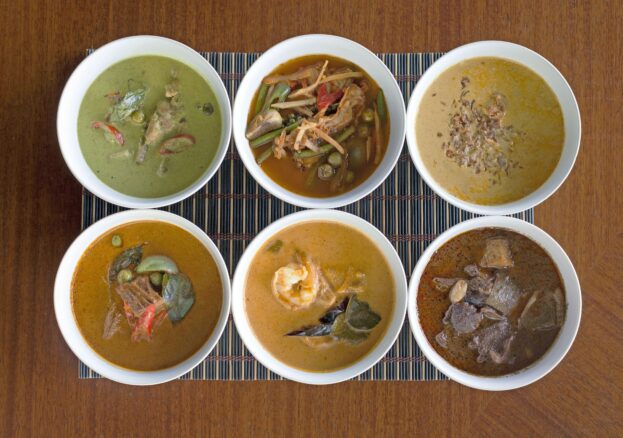 THIS VENUE IS CURRENTLY CLOSED.
Two of our food writers shared a meal at Busaba Eathai in The Printworks. Did they agree on it? Well…
We sent two of our writers, Ian Jones and Joe Daly, to review Busaba Eathai – here's what they thought (with a good dose of animosity between friends).
JD: He's late for a meal five minutes from his flat – and it's not as if he could miss the building. Manchester's branch of the highly-rated Thai chain Busaba Eathai finds itself in the brightly-neon lit, fat flat-iron of The Printworks, opposite the newly revamped Corn Exchange. It's busy on this, a Wednesday evening, though mercifully free from the weekend crowds, usually heading out-out for a night with a determination bordering on aggression. I take a seat and ask the waiter to please bring me a menu not already stained.
IJ: I arrive to find that he's only gone and sat slap bang in the middle of a busy walkway. We're in for a meal ducking to avoid toilet-bound diners and hot plates of food. Deep joy.
JD: Thank god he's here. Now I get to see what kooky random fact about Thailand they've written on his paper place mat. Turns out to be about how there's a statue of David Beckham in a Buddhist temple there. Trivia aside, I've been looking forward to this meal for ages; Busaba Eathai has had great things said about it in London, which hopefully puts it into the realm of foodie chains to pay attention to.
IJ: There aren't a huge number of exclusively Thai restaurants in Manchester, but they're all excellent and there's no reason to believe this should be any different. Décor is fine, but not notably Thai-influenced. In truth, the dark and woody look it isn't wildly different from the Café Rouge Busaba has replaced.
JD: The menu is a bit all over the place, which makes me pick a classic; if they can't get a Pad Thai right…
He's as close to tears as I've seen him since his e-cig got called an affectation
IJ: One item leaps off the menu for me: Thai Tacos. Who could resist something so bizarre-sounding? When they arrive, they're certainly remarkable – but not in a good way. The chewy grey shells bend around dry pellets of over-cooked chicken. There's no sauce, or discernible spice to speak of, and the stale tacos could pass for empty kitchen rolls. Thankfully, there are some sweet potato fries on the side and, despite being powerfully over-seasoned, they're cooked well, with just the right amount of crunch.
JD: We can agree on one thing – these starters aren't that thrilling. This Thai calamari is like rubber. Right at the bottom is a big pool of salty, sugary sauce, which'll do to coat it in, but it doesn't offer anything beyond making it just about palatable. No point finishing this; I can sense the unhappiness I'll feel later. My companion's disappointment at his tacos is comical.
IJ: I'm not naturally an optimistic man, but I expect better from the steamed whole sea bass. Assuming the fish is fresh and spiced well, it's impossible to get wrong. But instead of a delicately steamed slender fish wrapped in green leaf, it slumps heavily on the plate, dense and clammy like an ancient pillow. This doesn't seem like a happy, well-reared fish and I'm not a happy diner, not least because of my co-reviewer's delight at my poor choices. Even worse, though, is the stuffing. A dirty orange fibrous gunk; it doesn't just smell stale, it smells spoiled. One mouthful is enough.
JD: He's eyeing my char-grilled duck breast enviously but, whilst better than his fish (judging by the disappointed-child-at-Christmas look on his face while unwrapping it), it's still tough and overly sweet. Thankfully, the Pad Thai is solid, as decent as many others I've had.
IJ: I've the feeling he's getting off this one lighter than me. While he's in the bathroom I grab a mouthful of the Pad Thai and, sure enough, there are no complaints. Thick fleshy prawns, fine simple noodles, a tangy, zippy sauce, all topped with deep fried rice noodles. It's the highlight so far. Bastard.
JD: The only upside of an average meal is that there's easily space left for dessert. I'm hoping for something full of sugar and sweetness, something to cut through the grease. A block of chocolate cake (it couldn't really be called a fondant) and some coconut ice cream arrives. It's okay, it does its bare minimum, which at this point is that's to be hoped for. I suspect my companion is worse off; he's as close to tears as I've seen him since his e-cig got called an affectation.
IJ: I go for a mango and coconut panalova: vanilla panna cotta, topped with a meringue dome and mango coulis. This is an important test. A good meringue should crackle. I press my spoon into it… And it sinks like a week-old party balloon. I'm done – my companion's blatant glee is too much to take. I make my excuses and leave.
JD: So much of what we've had at Busaba Eathai seems dated; even the old Café Rouge décor still feels present. The only upside in a meal sadly lacking in quality is that my choices were slightly less bad than my companion's. And if I know anything about dining with another reviewer, it's about making sure you win the food envy game.
This is an independent review, but our writers didn't pay for their meal. For more info on our editorial policy, read our About page.