Black Dog Ballroom NWS
Lizzie Wood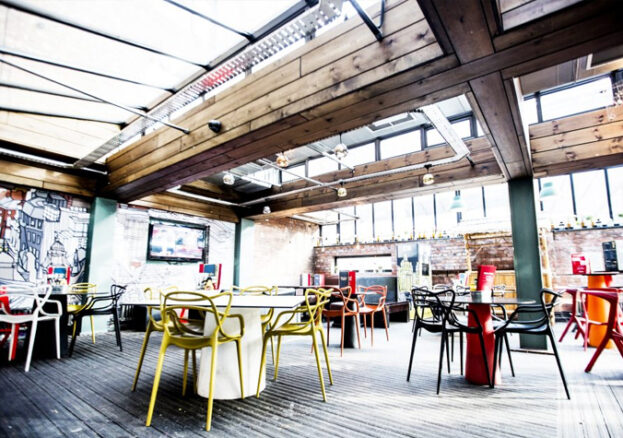 Black Dog Ballroom's southern venture serves all-comers – and succeeds.
Those acquainted with this chain of speakeasy, low-lit bars are likely to have visited its Northern Quarter branch before. Black Dog Ballroom originated in Manchester's self-styled creative quarter and majors on pool tables, good music and decent food. It's a recipe that has clearly worked, so much so that the Black Dog Ballroom family decided to repeat the trick south of the city centre, setting up shop on New Wakefield Street in 2012 in what was once the much-loved Pure Space.
On first approach, the restaurant inside the three-floor venue looks sleek and polished – an edgy contrast to the cobbled streets and outlandish graffiti on the street outside. Once through the doors, however, the open plan feel of the bar is spacious and airy, while still managing to retain a sense of intimacy. The dining area lies on entry level; a staircase cuts through the centre, creating a welcome separation between food on one side and pool tables on the other. Tables and chairs are scattered around, while booths line the opposing walls. Giant snooker balls hang above tables, posing as lampshades, while superb comic book-style illustrations of Manchester hang from the walls. Good impressions so far.
Giant snooker balls hang above tables, posing as lampshades, while comic-book illustrations hang from the walls
The Black Dog Ballroom staple menu of New York-inspired grub (burgers, salads, sandwiches and the usual breakfast selection) is in operation here, and I opt for the goat's cheese salad. It's a simple enough dish, yet there have been countless occasions when I've suffered limp, lifeless and small salads. This isn't one of them. In fact, the goat's cheese is so copious that I wish there had been more lettuce to accompany a flavour that, being quite rich, requires a clean taste to accompany it. My friends both opt for burger and chips which I'm assured are delicious, if a little on the small side.
Being so close to the universities, this is, as you'd expect, a great place for students looking for an inexpensive bite to eat, a couple of drinks, and a few games of pool. But it doesn't exclude non-academic traffic – on my visit, there was a good mix of students, families and one or two people popping in for a beer after a work. The biggest competition for this place is likely to come from next door's The Font: its similar menu and cocktails at £2 a pop may prove irresistible. Give Black Dog Ballroom a chance, however, and you won't be let down. With something going on every hour of the day (more or less: the place has a basement club and roof-top terrace-cum-barbeque alongside pool tables and diner), plus friendly service and good food, this Northern Quarter refugee might just find its feet on the southern side of town.