The Waiting Place at NOMA
Creative Tourist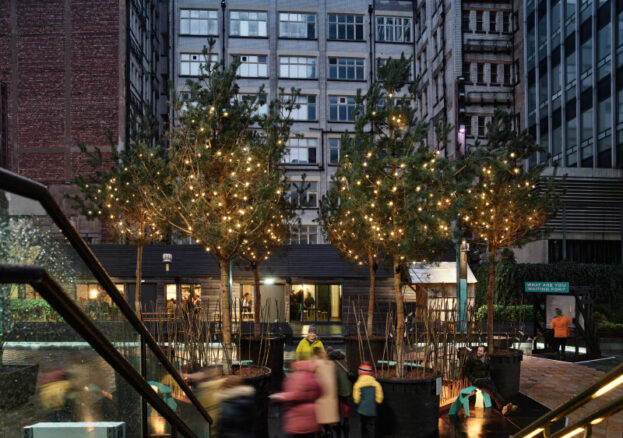 As much as we love it, the festive period is a chaotic time. From keeping up with the Christmas socials to razzing around the shops looking for the perfect gift for a million and one people, there's a lot going on. Sometimes a breather is needed. Enter Manchester city centre neighbourhood NOMA, and its new installation, The Waiting Place.
Throughout December, The Waiting Place will provide a pocket of calm amongst the noise of the festive period in Manchester city centre. An opportunity to relax and reflect in the centre of a "black pine tree glade of light and sound".
In line with NOMA's commitment to being a community-led neighbourhood, it is inviting visitors to collaborate with the concept. People are invited to take a moment to ponder what they are waiting for over the Christmas period – whether that may be for the big day itself, the snow, the days to get longer or the New Year. These reflections of the city's mood will grow throughout the month in an ever-changing public art piece.
As part of NOMA's sustainable approach to development, no part of this installation is single use. The six pine trees are on loan from its on-site tree nursery that was born from the PlantNOMA initiative and will be returned in the New Year where they will continue to be nurtured before being planted in their permanent home in the public realm.
Curated by Standard Practice, The Waiting Place opened on 8 December and is set to be in place through to the New Year.
Dan Hyde, Development Director at real estate asset manager and developer MEPC, said:
"Christmas can be overwhelming at times as people feel the pressure to get everything prepared and organised, with very little opportunity to reflect and relax. That's why we're offering people a moment to get away from the chaos and look back on 2022 or consider their hopes for the future. Being a community-led neighbourhood, NOMA is welcoming all members of the public to visit the installation, take a moment to catch their breath and collaborate with us as we look to grow this public art exhibition."