The Smile at Albert Hall
Johnny James, Managing Editor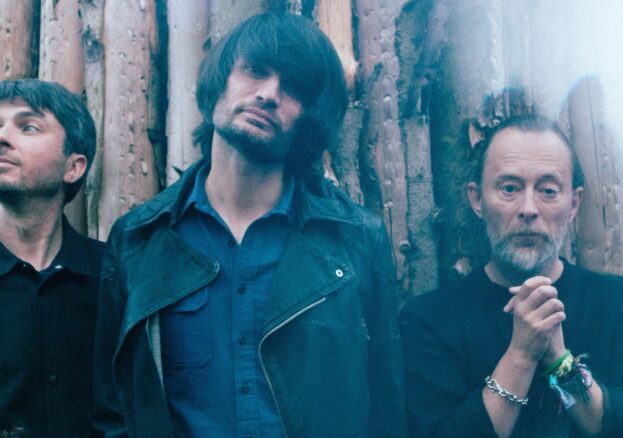 The Smile – a new trio made up of Radiohead's Thom Yorke and Jonny Greenwood plus Sons of Kemet drummer Tom Skinner – are embarking on their first tour this spring, calling in at Manchester's Albert Hall on Thursday 2 June.
Since debuting at Glastonbury's Live at Worthy Farm livestream event last year, The Smile have released a pair of singles: 'You Will Never Work in Television Again' and 'The Smoke', both produced by longstanding Radiohead collaborator, Nigel Godrich. The former harks back, quite surprisingly, to the grungy punk of Radiohead's salad days; its thrashing drums, primal guitars and yowling vocals rock harder than anything we've heard from Radiohead in years. Not to say that The Smile is a midlife nostalgia trip; 'The Smoke' reaches towards something more progressive, with funk-indebted drums, subtly swaggering brass and ethereal, blue note-filled vocals. It's a complete about-face from the first single; an indicator that this is going to be a pretty eclectic project.
The trio recently played three consecutive sold out live shows across sixteen hours at Magazine, London, broadcast globally in real time – quite a live debut. The set gave us a good taste of what to expect from the band's upcoming tour. What's immediately clear is that The Smile aren't taking pains to resist Radiohead's long shadow; rather this project seems like more of a continuation, maybe even a consolidation, of Radiohead's material (mind you, the Oxford band's back catalogue is so wide-ranging that nearly anything could be compared to something they've released). Flitting between Radiohead's various acts – from those alt-rocky early albums via the analogue bloops of Kid A and Amnesiac right through to the majestic, orchestral A Moon Shaped Pool – Yorke and Greenwood stay close to the mothership, while Tom Skinner's imaginative, jazzy beats subtly tilt the axis, bringing something looser and groovier to the table.
With rave reviews across the board, the shows have generated huge excitement about The Smile's upcoming tour across the UK and Europe. Their show at Albert Hall is an easy highlight of Manchester's 2022 cultural calendar.