The Big Splash at Victoria Baths
Carmel Smickersgill, Tours & Activities Editor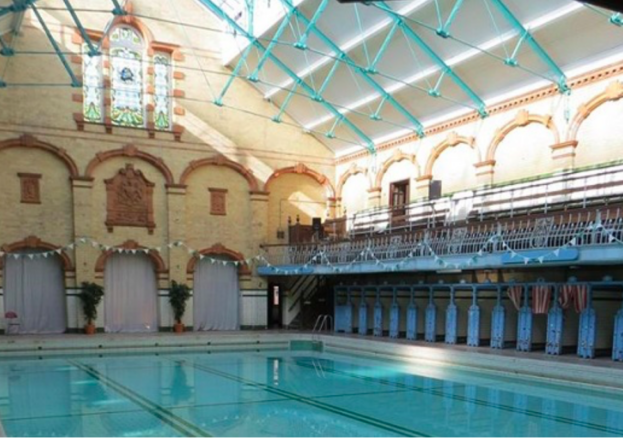 Victoria Baths has become one of Manchester's most sought after venues. They've previously hosted beer festivals, Yoga retreats, live theatre and music, but this September, the baths will be returning to their original purpose and opening for a weekend of swimming. After being postponed for obvious reasons, The Big Splash triumphantly returns in 2022 with swimmers eagerly awaiting the chance to once again enjoy the gala pool like it's 1906.
Swimming sessions will be available to book from 9:30 to 3:30 throughout the weekend. The gala pool, although it sits empty for the rest of the year, will be filled with 407 cubic litres of water courtesy of United Utilities. This takes around three days and for a bit of perspective, is the equivalent to fifteen hundred baths.
All of this is made possible with the help of a team of forty volunteers who lend their skills as lifeguards, cleaners and stewards. The Big Splash is Victoria Bath's largest fundraising event of the year. All the proceeds from swimming will go towards sustaining the building and allowing it to stay open as a cultural resource and space for the community.
For those who don't swim, you won't be sitting bored on the sidelines. Guided tours of the building will be running throughout the weekend. There's plenty to discover about this Grade II listed building. There will also be no short supply of post swim sustenance. On the first day, you can satisfy that splash induced hunger with a post swim supper. Served in the sports hall, local foodie heavy weight the Sri Lankan Experience will be bringing plant based cuisine that feeds your soul and belly. You can also expect to see a guest appearance from the Hip Hop Chip Shop over the course of the three days.
In the pool dressing up is encouraged but not compulsory. Those who want to don their historically accurate swimmers may find the chronology of the situation somewhat interrupted by the fun floats and now infamous pink flamingos.