Susan Collis: When we loved you best of all at Touchstones Rochdale
Sara Jaspan, Exhibitions Editor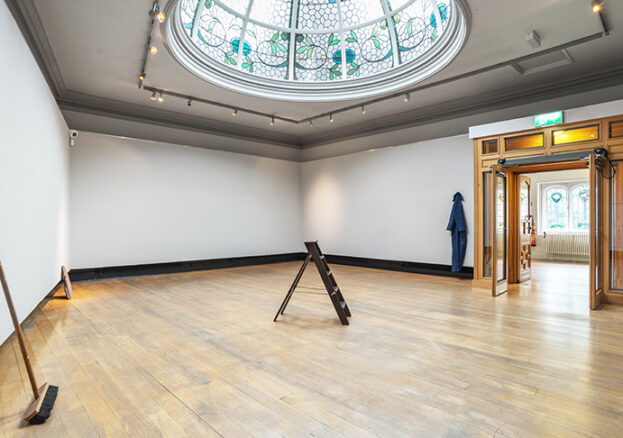 How do we decide which objects are of beauty, or worthy of our attention? Regardless of whether ceramics are your thing, most would rank a finely crafted vase above a lowly dishcloth. A hierarchy exists, based largely upon an unconscious mix of natural intuition (our eyes can't help but be drawn by the sparkle of a gemstone), learnt values (a Greek statue is 'worth' more than its replica), and the question of function and labour. When we enter a museum or gallery, we naturally behave differently around the items on display.
Entering When we loved you best of all at Touchstones, however, visitors may wonder whether the work is yet to be installed. Susan Collis, the artist behind the show, has filled the space with objects that would normally be considered inconsequential or worthless – an abandoned ladder, paint splattered overalls, misplaced screws in bare walls. Yet those who take the time to look carefully are richly rewarded; everything in fact being the result of painstaking effort, hand-crafted using often precious materials. The screws are cast in white gold and inlayed with diamonds. The paint splatters (chance traces of a lifetime of manual work) embroidered with great precision. The ladder encrusted with coral, opal and pearl.
Collis' practice is based upon questions of worth, value and perception; the artist seeking to challenge her audience by subverting expectations and highlighting contradictions in judgement. The exhibition forms part of Touchstone's Contemporary Forward programme, which presents work by leading female artists who deal with ideas affecting society today. Collis, who has previously exhibited at venues such as the V&A in London, and made work for MOMA, New York, sits well within the gallery's local context. As the exhibition's curator, Mark Doyle, points out, the issues of labour and production resonate strongly in Rochdale – an area deeply affected by the boom of the industrial revolution, the drastic unemployment of the eighties, and the rise of computerised mass production.
As the world becomes increasingly dominated by screens and digital or virtual realms, hand-made artisan crafts are becoming both rare and fetishised. Perhaps When we loved you best of all is a call to re-engage with our physical surroundings, and take time to notice beauty where we might not expect it.