Psappha: Starry Night at St Michael's
Johnny James, Managing Editor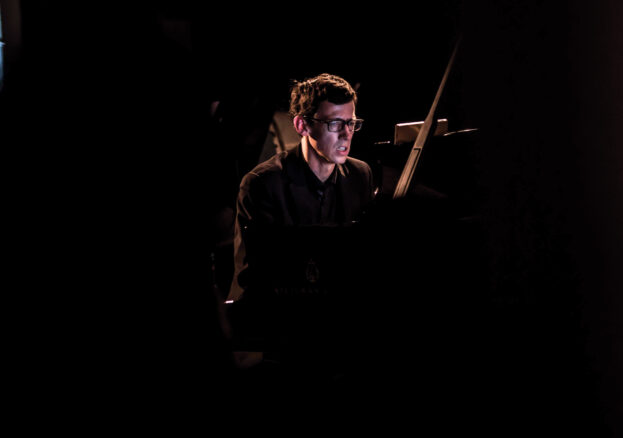 In addition to Psappha's February concert Winter Reels, we greatly look forward to Starry Night, an evening filled with thrilling contemporary classical music. From brand new works by composers at the start of their career to well-loved works by internationally renowned composers, there's much to get excited about in this programme.
A man is discovered in the street – a knife through his chest. Who is he? Why is he there? Simon Holt's …era madrugada takes inspiration from a Federico García Lorca poem called Sorpresa, which tells the story of an unnamed man's mysterious death. A Bolton-born composer, Holt writes superbly for the chamber ensemble, and …era madrugada is a fine example of this. Composed in 1984, it's an enigmatic piece which masterfully captures Lorca's strange little poem. It will be joined on the programme by Sarah Kirkland Snider's Thread and Fray, which promises to be another treat. It's a poignant four-minute work for clarinet, viola and marimba which the New York Times described as "angular and gracefully expansive".
And now for the concert's world premiere. Known for supporting emerging composers, Psappha have invited London-based Lucy Armstrong to write a piece for Starry Night. This will be Psappha's first commission honouring their former Patron Sir Peter Maxwell Davies, who himself supported many hundreds if not thousands of composers and musicians during his lifetime. Lucy had the following to say about the opportunity and about her piece so far:
"It's a real privilege to be writing the inaugural Sir Peter Maxwell Davies commission for Psappha. It is very exciting and inspiring to have the opportunity to write for such brilliant musicians. I recently had a workshop with Psappha in which I was able to hear some of my sketches at an early stage of their development. This is a rare privilege for a composer and it allowed me to be bold and try things I had not tried before. Now, I can reflect on my ideas and structure and start to sculpt them into the final piece."
Two Van Gogh-inspired works complete the programme. Prolific London-born composer Julian Anderson was the London Philharmonic Orchestra's Composer in Residence for four years, and has been lauded by The Times as "a composer to cherish" and by London's Evening Standard as "one of the finest composers of his generation". His piece Van Gogh Blue takes inspiration from the artist's letters. Despite the tragedies for which he is best known, Van Gogh's letters are filled with joyous exuberance for the practical considerations of his work: what he will paint next and, most importantly, what colours he will use. Instrumental colour aptly plays a large role in Van Gogh Blue, which is a very physical, highly contrasted work about the joy of sound.
Finally, Steve Martland's Starry Night should be a real thrill. The composer, who died in 2013, was much loved for his singular compositional voice. Described by The Guardian as an "iconoclastic composer who crossed musical boundaries to create a distinctive, edgy sound", Martland really did forge his own path. He employed what he found of value in the classical tradition, but also incorporated elements of jazz, folk and rock into his energetic, dynamic music. His piece Starry Night takes its cues from personal memories of Africa as well as Van Gogh's gigantic stars.
Prior to this wonderful programme at St Michael's, there will be a free pre-concert talk. In an effort to demystify the music, Psappha will introduce us to the composers and to the inspiration behind their works, which we think is a great idea! So why not get down a little early, grab a drink and a good seat, and get clued up before the wonderful music begins!