Sounds of Our City Online Exhibition
Alice Hiley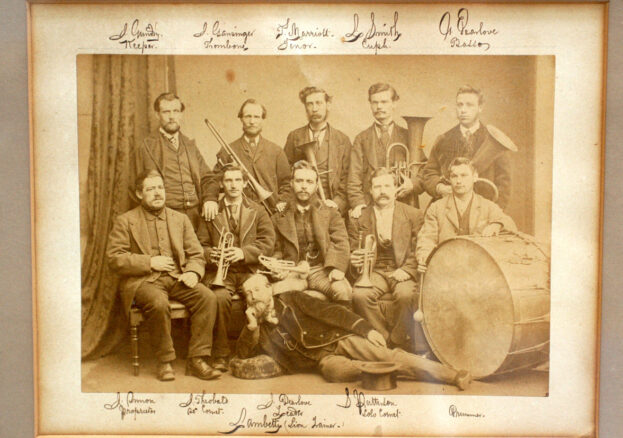 The Sounds of Our City Online Exhibition gives you a chance to visit the current exhibition at Abbey House Museum virtually. Find out the story of how the different musical styles and venues of Leeds interact.
Discover fascinating instruments and sound equipment made in Leeds, and explore the different venues associated with music in the city over the past 200 years. Relive some of the city's most iconic performances through the memorabilia featured.
Listen to recordings of songs by forgotten women composers, curated by students at Leeds Conservatoire. Reminisce over the traditional school songs proudly sung by students across the city to instill 'school pride', and learn about the first music shop set up on Park Row in 1864.
Leeds College of Music launched the first jazz degree in Europe in 1993, and in 2004 they became the first UK conservatoire to offer courses in Popular Music, Music Production and Music Business. The exhibition explores how Leeds schools slowly welcomed music lessons into the main curriculum from as early as the 19th century.
Listen to interviews with key figures including Leeds record shop owners, fanzine creators and members of bands who played or performed in Leeds. Explore the history of Leeds' biggest and most beloved concert venues, past and present, including The Leeds Assembly Rooms, City Varieties Music Hall, the Casino Promenade Concert Hall, Leeds Town Hall, Roundhay Park, The Odeon and the new First Direct Arena.
Discover artefacts that transport you from the early beginnings of music in Leeds to the city's more recent festivals and concerts. Sheet music, instruments, gig tickets, posters and signed memorabilia bring these iconic concerts to life in never-before-seen ways.
From opera and classical music to rock and roll and pop, there's something for lovers of all genres in the Sounds of Our City Online Exhibition.