Skee Mask at The White Hotel
Johnny James, Managing Editor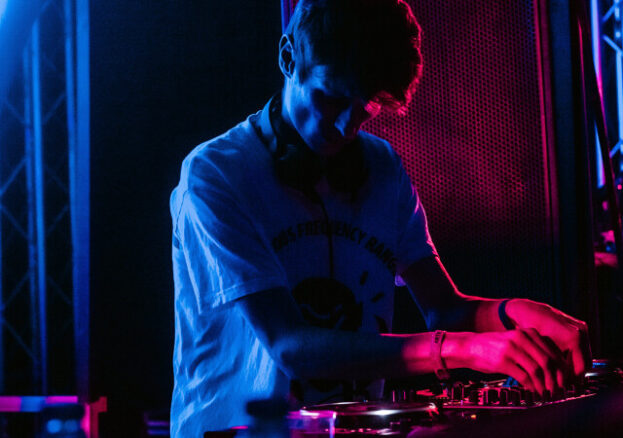 Skee Mask, one of the most wildly adventurous techno producers around, performs at The White Hotel on 2 December, alongside the founders of the revered Ilian Tape record label to which he's signed: the Zenker Brothers.
Born in 1993, Bryan Müller AKA Skee Mask was raised in Emmering, a small village near Munich. He grew up playing in indie bands, before teaching himself to make electronic music using Ableton Live in 2010. At breakneck speed he began releasing electro-house and techno tracks under the moniker SCNTST, catching the attention of Boys Noize, who snapped him up as a signee of their eponymous label. Before long, Müller started shaking up his output with more experimental music, which caught the ears of Zenker Brothers, leading lights of Munich's electronic music scene who had recently founded the now-iconic Ilian Tape label.
Released under a new moniker – Skee Mask – Müller's debut album for Ilian Tape offered up a collage of breakbeat techno with a warm, human heart at its core. "With alluring melodies, rich atmospheres and a superlative way with breakbeats and drum programming, Shred proves that techno can be as much about songwriting as dance floor functionality", said Resident Adviser about the record, which saw Skee Mask become known as Ilian Tape's wonderkid.
In 2018, less than two weeks after the release of the third SCNTST full-length, Müller released his second full-length as Skee Mask. Compro offered an expansion in every sense; more widescreen in its sonic ambition, more exploratory in its approach to genre, and more hyper-detailed than ever. Its hybrid of breakbeats and ambient textures naturally took cues from the likes of Aphex Twin and Boards of Canada, but never in a way that felt like pure nostalgia; tracks like 'Soundboy Ext' and 'Dial 274' brimmed with a posthuman energy all of their own.
Fast forward five long years and Skee Mask's surprise third full-length, Pool, crash landed to earth in 2021, its eyes fixed on the future. Ranging from 130bpm up to 170bpm+ and without ever settling into any tangibly recognisable genre templates, Pool leaves Müller's early, techno-centric releases in the dust. Its 18 tracks, totalling an hour and 45 minutes, seem to tap into the frequencies of some alien planet, zipping between vignettes of various mechanical beasts convulsing in the freezing fog.
There's a real physicality to the record, perhaps owing to many of the tracks being born in live hardware jams. Every element has the feeling of being in a perpetual state of flux; drum patterns never play quite the same way twice; synth lines writhe and squirm in and out of different sounds… the whole record sounds less like a programmed sequence of events than a living thing. "The plan is that there is no plan and the story goes on!", says Müller in his explanation of the album, describing it as "18 tracks about distinct moods, patterns and the pure joy of creation itself."
That joy in creation is abundantly evident in everything Skee Mask does, including his DJ sets, which, in his own words, aim to create "a deep trip, constituted of organic grooves and diverse clang accompaniments." This approach is shared by his label bosses, the Zenker Brothers, whose cosmos-leaning, acid-dusted techno similarly takes influence from '90s IDM, dub and breakbeat, while also digging into the sound of Detroit – but not without taking the odd hammer to convention, which seems to be a pre-requisite for anything that gets released by Ilian Tape.
As December rolls around and nights out start to take the formulaic shape that comes with the festive period, this one promises to bring something a little different.