Safety Last! with Live Piano Accompaniment at Royal Northern College of Music
Tom Grieve, Cinema Editor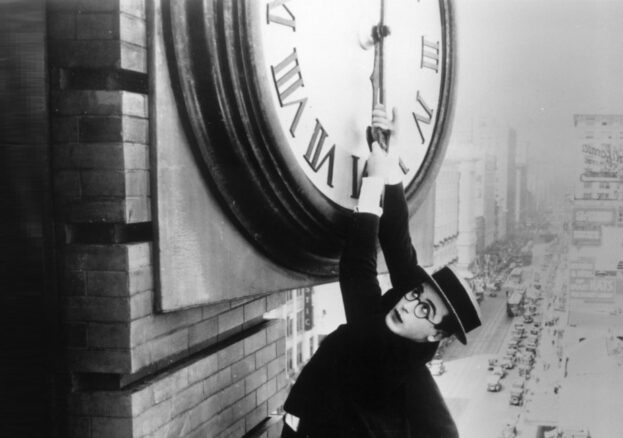 Safety Last! (1923) contains one of the most famous images in all of silent comedy; a dizzying shot of Harold Lloyd, hanging from a a clock on the side of a 12-story Los Angeles high-rise, perilously close to death. It's an image which resonates still today: a man caught up in modern machinations, who has climbed too high and finds himself staring down at an uncaring city, as his life ticks away. Of course Lloyd, who had lost a thumb and a finger four years earlier when a prop bomb blew up in his face, plays it for laughs.
Of the three great, famous silent comedians, Lloyd's films are screened the least after those of Chaplin and Keaton. It's exciting then, that Royal Northern College of Music have invited Darius Battiwalla to provide an improvised piano score to Safety Last! this October. The film stars Lloyd as a small town wannabe who leaves home for the big city, hoping to find the success to marry his childhood sweetheart. That proves difficult, but it doesn't stop him from writing letters home boasting of fictional achievements. When his fiancé decides to come and visit, he realises that he needs to make some money, and fast.
His plan, somewhat improbably, involves climbing up the outside of the department store he works in in order to entice customers and sufficiently impress the store management. Aside from its famous climax, Safety Last! includes much of what made Lloyd beloved to audiences: visual gags, impressive stunts and an endearing underdog trying to make a success of himself. The film remains one of most well known and appreciated of the silent era and should continue to draw a crowd.