REMOTE WORK and Lubaina Himid: The Mourning Kangas at Grundy Art Gallery, Blackpool
Sara Jaspan, Exhibitions Editor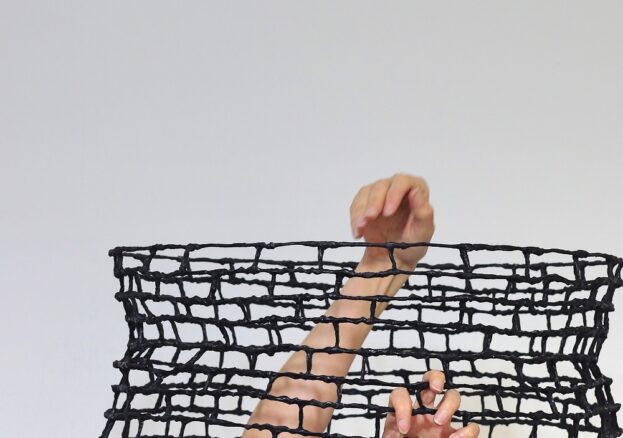 Grundy Art Gallery in Blackpool reopens on 18 May with two exhibitions wrapped inside one, both dedicated to the experiences and output of artists during lockdown.
After a year when many people have been thrown into the position of working from home for the first time, in makeshift offices and at kitchen tables around the country, the subject of 'remote work' has received a fair degree of media coverage. Yet, less air time has been given to those people operating outside of corporate structures or larger organisational frameworks. Flipping the script, REMOTE WORK focuses on one strand of this disparate group: The lonely artist. The exhibition features the work of five North West based artists / artist groups – Nicola Dale, Kieran Leach, David Penny, Shy Bairns and Ciarán Wood – who were selected from an open call released by the gallery in early April 2020 to provide access to financial, administrative and professional development resources at a time when much of the infrastructure that artists rely on had ground to a halt.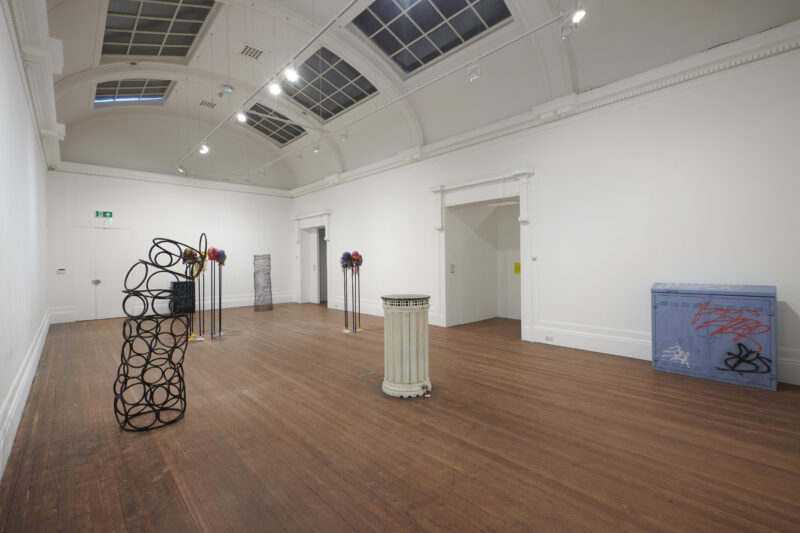 Though the artists have been making in relative isolation, it is perhaps unsurprising that certain shared themes have emerged between their output. Both Leach and Wood have focused on our changing relationship to the urban environment, for example. Leach, through a series of sculptural replications of the so-called 'street furniture' (metal cabinets housing a spaghetti-junction of internet and fibre-optic cables) that lines our streets, finding a surprising beauty in their form and graffitied exteriors that speaks to the way many of us have become newly attuned to the minute details of our immediate locality. Ciarán Wood, meanwhile, meditates through film and photography on the shifting nature of public space and how it is occupied over recent years.
While lockdown has led many people to spend more time exploring their nearby area, it has also had the opposite effect of pushing an ever-greater proportion of life, work and daily encounters online. This has provided a shared source of interest for the rest of the artists in the show. Dale's spiralling, tunnel-like metal sculptures reference the entrapping echo chambers that the internet has helped to perpetuate. The Bairns' new body of print, sculpture, found objects and film work, titled 'Shy Bairns Believe It Or Not', dips into the world of conspiracy theories – an age-old phenomenon that the digital sphere has helped perpetuate. And Penny's series of physical objects and images that previously only existed virtually explores the evermore blurred boundaries between the digital and physical realm.
Threaded throughout Remote Work will be The Mourning Kangas – a series of new and previously unseen Kanga paintings by Turner Prize winning artist Lubaina Himid, made during the early weeks of the first UK lockdown.
The daughter of a textile designer, Himid has always been highly attuned to the communicative power of clothes and the cloth from which they are cut. In her interview with Lauren Laverne for Desert Island Discs in 2019, the Turner Prize-winning artist recounted the many hours she spent as a child trapsing with her mother between shops, looking at and discussing the garments on sale. It wasn't until she made her first return visit to the country of her birth, Zanzibar, however, followed by a commission from the Whitworth Art Gallery in 2011 to respond to its extensive textiles collection, that she first began making work in response to Kangas. Since then, the vibrant cotton fabrics worn by people, mostly women, all over east Africa, have become a reoccurring theme within her practice.
Himid has likened these garments to T-shirts; everyday items of clothing often bearing a message or strapline to which the wearer may in some way connect or wear as an expression of identity. Her previous Kanga paintings have played upon the standard elements of Kanga design – a pindo (border), mji (central motif), and jina (message or 'name', which often takes the form of a riddle or proverb) – as a language through which to discuss a wider set of personal and political themes, such as loss, migration, and the historic and present-day experiences of Black people.
The Mourning Kangas incorporates a new series of motifs into this iconography, such as a cage and a speed camera, that symbolise the limits, containment and the confined conditions in which the work was made. The evocative title of the series would also appear to reference the tragic impact that Covid has had on many people's lives – particularly those of Black and South Asian ethnic background, who have suffered the highest death rates in Britain.