Posters from the Irish civil rights era – Online with the Working Class Movement Library
Sara Jaspan, Exhibitions Editor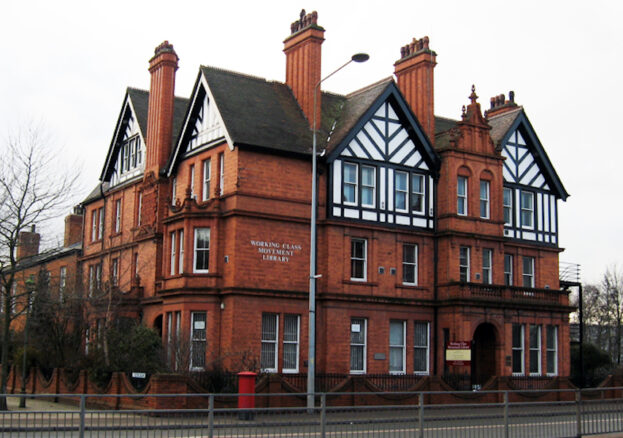 While the subject of protest and civil rights has come to dominate the news and people's minds over the last few weeks, the focus of the Working Class Movement Library's spring exhibition feels to some extent timely. The guest-curated online display looks back on a very different period of unrest and youth-led activism through a selection of bold, politically charged posters made by young members of the People's Democracy in Northern Ireland and the London Poster Workshop – a grassroots operation set up in a basement in Camden that briefly lay at the heart of the UK capital's protest scene during a wave of rebellion sweeping the world at that time.
The PD was formed at a mass meeting of students at Queen's University Belfast, four days after a civil rights march had been brutally attacked by police in Derry in October 1968. Its membership included large numbers of students from both Protestant and Catholic backgrounds, and it became a driving force in the struggle to challenge inequality and discrimination toward Northern Ireland's Catholic minority, which, it argued could only be achieved through the formation of a socialist republic for all of Ireland.
Although the movement was committed to nonviolence, the PD's marches were often attacked by loyalists and the Royal Ulster Constabulary police. In August 1969, an eruption of intense sectarian violence resulted in the British government deploying troops onto the streets. PD activists asked the London Poster Workshop for help, and member Sarah Wilson travelled over to set up a makeshift poster-making operation in an unoccupied area of Belfast. The posters – which display powerful, graphic messages opposing sectarian division and the British army's presence, as well as calling for the group's civil rights demands to be met – were fly-posted around the city. Three members of the group were arrested and imprisoned for their involvement in the activity.
The temporary print shop (located in a 'secret room' beneath 'Radio Free Belfast' – the PD's Radio of Revolution) quickly attracted the attention of journalists and made international news headlines. Together, the Belfast posters – now displayed within WCML's online exhibition – offer a fascinating glimpse into another previous chapter of civil rights history.