Off The Record in Manchester's Northern Quarter
Philip K Marzouk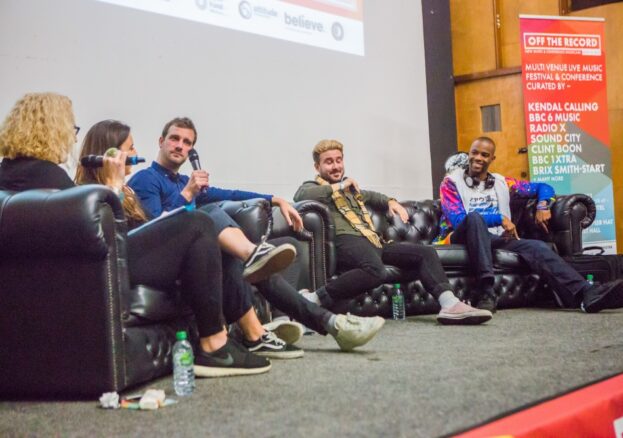 Off The Record (OTR) is once again bringing its blend of new music and fascinating industry insight to the fair streets of Manchester's Northern Quarter. It's hard to believe that this festival, renowned for its top tier conferences and showcases of fabulous new talent, is only in its third year. Having developed a remarkable reputation for introducing new acts to the world, this is a fantastic 48 hours that is not to be missed by any music fans or budding artists. Starting at 7PM on Thursday the 15 November, the festival is non-stop till the wee hours of Saturday morning. Many of Manchester's Northern Quarter favourites have seen fit to host OTR, which speaks to the pedigree it has developed in such a short space of time. Band on the Wall, Night & Day, Gullivers and Central Methodist Hall are amongst the Oldham Street staples letting OTR take over.
It's easy to view OTR as a necessary service for budding musicians, proving essential for them to gain knowledge and network with people who care about enabling new and varied talent in an often risk-averse industry. In a festival that looks to spotlight DIY talent, their partnerships speak to the passion that the festival organisers have in pursuit of this goal. Arts Council England, Ticketline and the PRS Foundation are amongst their big name supporters, not to mention their partnerships with northern festival favourites, Kendall Calling and Bluedot. Even famed peddlers of new talent, Distiller TV, are getting in on the act (see below for their footage of Fizzy Blood who will be performing at the festival).
What separates the festival from many other industry events of its ilk is its distinctly Manchester flavour, both in line-up and scope. They seek to accommodate a wide range of genres and tastes through their programming; a fitting reflection of its host city's music scene. The festival curators run the gamut from Everything Everything to Huw Stephens to Rob Da Bank to Ana Matronic. They've curated nights that blend R & B (check out the brilliant Olivia Nelson), jazz (get the entrancing Kinkajous on), post-funk (in the form of Manchester's answer to Talking Heads, See Thru Hands) and everything in between.
And I haven't even spoken about when they get academic! Alongside the laundry list of heavy-hitters curating the event, the speakers are not to be missed by anyone with even a cursory interest in the music industry. In partnership with Liverpool Sound City, the OTR conference will take place at Central Methodist Hall for the entirety of Friday the 16 November. Highlights of the day include a song-writing masterclass chaired by Doves, a talk titled Northern Revival by DJ Dave Haslam and, for the producers out there, The Evolution of Mastering with Kevin Tuffy (mastering engineer on Stormzy, Rag'n'Bone Man and London Grammar's work). A personal highlight is the talk featuring Jeremy Pritchard (Everything Everything's bassist and harmonising laureate) and their manager, Peter McGraughrin, titled Exploring the Relationship Between Artist & Manager; a sure to be heart-warming talk amongst the usual deluge of management horror stories.
What OTR captures is the spirit of a time when the music industry was less affected by cynicism, standing as a gleaming example of what the industry can be at its best. You'd be a fool to miss this fantastic couple of days.