Materialise: A Showcase of Five Young Makers at Manchester Craft & Design Centre
Sara Jaspan, Exhibitions Editor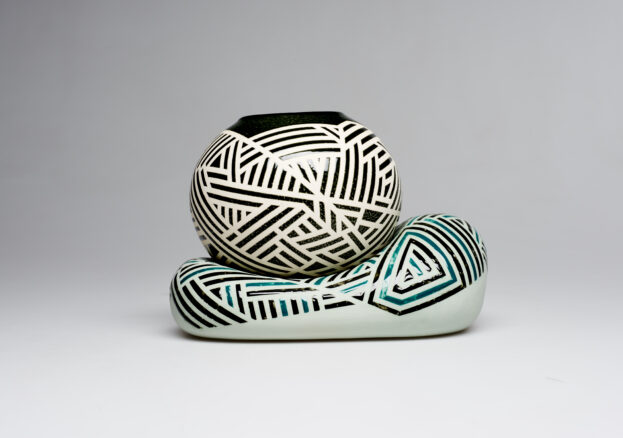 Materialise, Manchester Craft & Design Centre's latest exhibition, provides an exciting snapshot of the creative face of tomorrow. Featuring the work of five young UK-based artists, makers and designers, whose disciplines span textiles, ceramics and wood; discover the fresh new ways in which craft is being reinvented by the bright young things of 2018.
Aleks Tedstone uses traditional carving techniques to create mind-boggling, endlessly-entwined 'knots' of wood, close in resemblance to the kind of molecular structures you find in chemistry text books. Though made of solid material, each piece has been skilfully crafted to be flexible and moves in a remarkably seamless way.
Freya Goodwin's textiles are almost akin to abstract paintings, with beautifully simple, fluid motifs that resonate with a vibrant sense of natural energy. By contrast, Vanessa Lam's highly intricate, interactive fabric constructions explore the fast-paced environment we currently live in, interpreting the world around us to create organic designs that focus on human emotion and wellbeing.
The third textile artist, Cathie Thurgate, is again very different from the other two, using the once rather 'conservative' practice of embroidery to fashion detailed yet highly playful woven compositions. We especially like her feminist 'slag' knickers, with miniature wombs on the front.
Lastly, Jessie Roberts (the ceramicist among the group), creates striking contemporary designs using bold geometric patterns, contrasting colours, unusual finishes and innovative shapes that convert these small domestic objects into mini-sculptures all of their own.
Materialise: A Showcase of Five Young Makers has been co-curated by Manchester Craft & Design Centre and the Creative Agents at 42nd Street, a Manchester charity supporting young people aged 11-25 with emotional wellbeing and mental health.