Manchester Collective x RNCM (online)
Johnny James, Managing Editor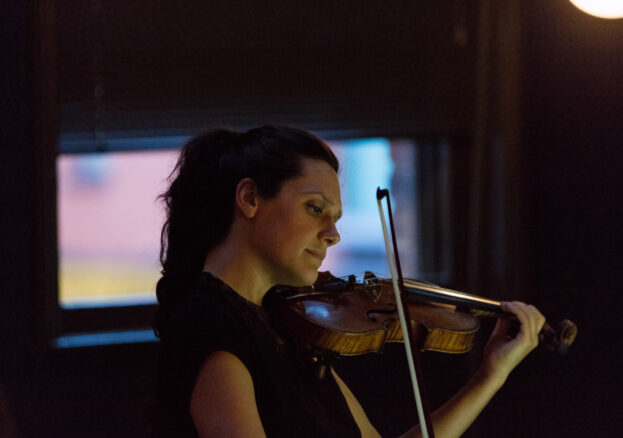 On 3rd December, Manchester Collective will be joined by some of the finest string players from the RNCM in a collaborative performance, exploring storytelling through music.
Presented by musician, animateur and BBC Radio 3 presenter Tom Redmond, the online concert will feature an unlikely mix of old and new music, with a set of classical repertoire spanning 400 years. We're also told to expect 'twisted Christmas tales' to kickstart what promises to be a different kind of festive period.
A highlight in the programme is Hans Abrahamsen's 10 Preludes for String Quartet. One of the composer's landmark early works, it's a testimony to his leading role in the Danish New Simplicity movement, which sought space, clarity and objectivity in music. The amalgamated forces of Manchester Collective and the RNCM will perform preludes two, five and eight – pivotal moments in the string quartet's progression from atonality to tonality, characterised by pared-down textures and glacial developments.
Another highlight in the programme is John Tavener's The Lamb. This disturbingly beautiful work was originally written for unaccompanied choir, but here it will be performed on strings. Premiered on Christmas Eve in 1982, it's a solemn carol that embodies Tavener's religious influences and his musical language perhaps more clearly than any of his other works.
Adding light to the shade, we'll also hear the spritely first movement of Benjamin Britten's Simple Symphony, which, according to Britten's notes is "entirely based on material which the composer wrote between the ages of nine and twelve." We'll also hear three movements from The Capriol Suite by Peter Warlock – a set of spirited dances based on Renaissance folk material.
Finally, a change of pace: Imper for string orchestra and tape by young Lithuanian composer, Rūta Vitkauskaitė. Her music combines contemporary classical styles with experimental electronics as well as elements of ethnic and ritual music of different cultures. Eccentric and unpredictable, it's electrifying stuff, and perfectly suited to Manchester Collective.
Streaming live from the RNCM, this performance will be the culmination of a series of educational workshops that Manchester Collective is running with RNCM students. In the days leading up to the event, they'll be teaching skills around ensemble awareness, the physicality of playing and nurturing one's musical imagination.
You can tune into the action via the RNCM's website. The price of admission is free, but the college asks that you please consider donating what you might have spent on a ticket in order that they can keep performing through these challenging times.