Manchester Christmas Parade
Shekina Rose, Families Editor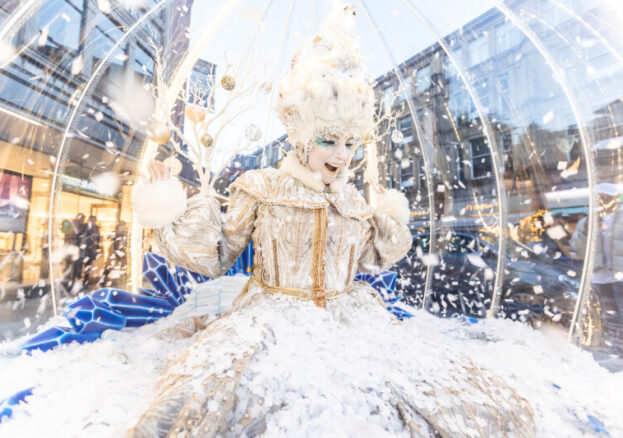 Christmas is coming… and a festive first is on its way as Manchester hosts its inaugural Christmas Parade on 11 December, providing free, festive fun for the whole family!
After the extremely popular world-famous Manchester Day Parade in the summer, the first-ever Manchester Christmas Parade will take place on Sunday 11 December, bringing all sorts of festive vibes to the city, from magical sounds, spectacular sights to dazzling sparkle. This awe-inspiring parade will be lacing its way through the streets of Manchester City Centre next weekend, casting a Christmassy spell across the most popular city in the Northwest.
Starting at 1pm, the Manchester Christmas Parade will be bringing joy to the streets of Manchester in Deansgate, St Ann's Street, Cross Street and St Mary's Gate, and will feature over 100 participants. You might see Jacks of Frost and Fairy stilt-walkers, an Arctic Fox, and runaway Christmas Presents, to Cocky Robins, Glowing Gastropods with elf riders, and a stunning Christmas Toy Procession, on its first ever outing! The Town Hall Clock will also be making an appearance, helping make sure the parade is right on time and runs like clockwork. Yes – it sounds bizarre and wacky – but that's all part of the Manchester Christmas Parade's charm! The day promises festive fun and delight for all ages, and it's free – what's not to like?
Councillor Pat Karney, Christmas spokesperson for Manchester City Council, said: "Nowhere else does a parade quite like Manchester and we can't wait to bring the first-ever, not-to-be-missed Manchester Christmas Parade to Santa's favourite city.
"Of all the places in the world that Santa could have chosen for this magical festive first, Manchester is the obvious choice. It's going to be fabulous, and we can't wait!"
Jane Sharrocks, Manchester BID Chair and General Manager at Selfridges Exchange Square said: "We're delighted to be involved in what will be Manchester's first official Christmas Parade! As well as being a huge draw for families, it's also a fantastic headline event for our programme of Festive Sundays which will see sparkling street performers including illuminated bands, roaming puppets, stilt-walkers, supersized penguins and more, take to the city's main shopping streets for six consecutive Sundays during November and December.
It's going to be fun! Come along and experience a Manchester Christmas like never before.