Macclesfield Potato Riot and Feast
Gemma Gibb, Associate Editor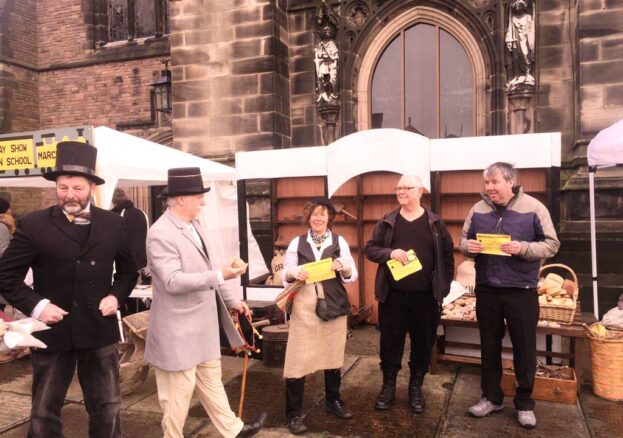 If you don't think of Macclesfield as a rebellious town think again as a notorious riot in 1812 is set to be recreated over 200 years later in a rambunctious, free street theatre performance.
Reacting to the price of potatoes, over 5000 rioters reportedly chucked spuds and ransacked shops all over the show to roll cheeses and other bounty around the town. A ringleader was even liberated from the gaol and carried through the streets in celebration before the protestors were subdued by the local militia.
Over 100 actors and local participants will be togged up in 1812 attire and transformed into urchins, shopkeepers, stallholders, militia, potboys and girls, the owners of the coaching inn and the rioters themselves. Expect food to be hurled as you navigate your way through a transformed town with 1812 replica shopfronts and stalls selling traditional wares from the era.
Organised by John Hartshorn (who is also at the helm of Barnaby Parade and Macclesfield Community ArtSpace) this creative, immersive street theatre event certainly seems timely in our current economic climes. We love that it's a total town takeover with the audience also encouraged to dress up, cheer and heckle the rioters and that the town has had regular Potato Riot Tuesdays to prepare. It will be followed by a ticketed celebratory feast (of tatties of course) with raucous live music from Sheelanagig and The Rumblestrutters in the Market Place.