Macbeth at Shakespeare North Playhouse
Kristy Stott, Theatre Editor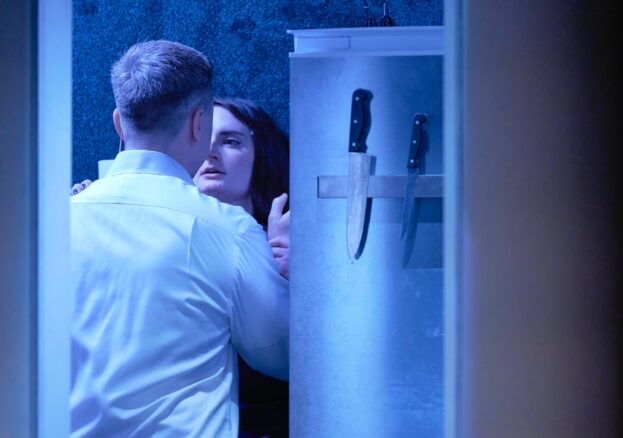 Visceral, haunting and contemporary, the English Touring Theatre's new production of Macbeth brings startling resonance to Shakespeare's bloody tragedy.
With a thrilling design – unique to Shakespeare North Playhouse's Cockpit theatre space – Macbeth is another highlight in the theatre's 2023 programme, a year of performance and events to celebrate the 400th anniversary of Shakespeare's First Folio.
Billed as "intoxicating" and "claustrophobic", this co-production lends itself to the modern world we inhabit now. The play's timeless themes exploring masculinity, ambition, guilt, violence and power are brought bang-up-to-date in this tense psychological new production. More intelligently, this production also poses questions around our macabre fascination with 'The Scottish Play' and its motifs: why has Macbeth haunted our fears and nightmares for so long and what can the narrative continue to teach us?
Set against the backdrop of a struggling and divided nation, the Macbeths have their eyes on what they believe to be theirs – the crown. However, when things don't go the way they intended, their dreams morph into nightmares. Navigating a landscape of grief and uncertainty, masculinity and fragility, shame and delusion – a complex portrait emerges. And as everyone struggles to make sense of the darkness and brutality, how long will it take for society to fight back against the violence and corruption?
This must-see co-production from Shakespeare North Playhouse, English Touring Theatre, Northern Stage and Théâtres de la Ville de Luxembourg, boasts an impressive ensemble too. Mike Noble takes the title role alongside Laura Elsworthy as Lady Macbeth; further cast members include Lola Aluko, Jasmine Elcock, Brian Lonsdale, Guy Rhys, Coral Sinclair, Ross Waiton and Leo Wan.
Laura Collier, Creative Director of Shakespeare North Playhouse told us, "It is such a joy to be co-producing Macbeth with our friends from English Touring Theatre, Northern Stage and Théâtres de la Ville de Luxembourg. ETT's version of Macbeth is intense and intoxicating, and its complexity and nuance seeks to resonate deeply with modern audiences. We're so excited to welcome audiences to see this production set against the incredible backdrop of our newly installed Frons Scenae."