Liverpool Cheese Company
Christina McDermott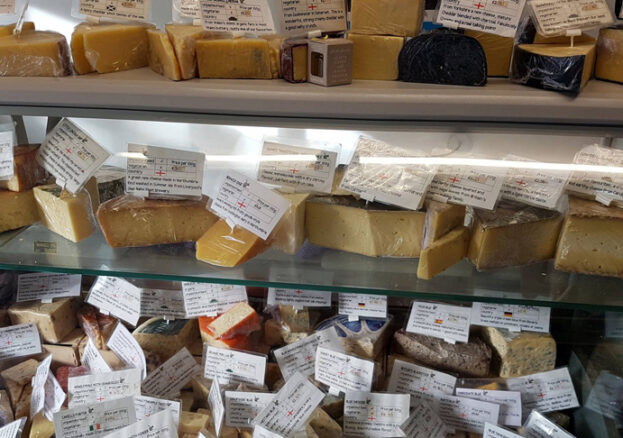 Ditch the supermarket stuff – Liverpool Cheese Company is a one stop shop for the best that dairy has to offer.
Situated in a Grade II-listed dairy in Woolton (an area of Liverpool so scenic you can easily imagine cows ambling down its streets), the Liverpool Cheese Company has, since 2006, been  the city's finest purveyor of specialist and artisan cheeses, as well as one of its most stalwart independent food retailers. Owners Vickie Anderson and Ian Tomlinson have a real love of all things dairy (they stock over 200 different varieties) and possess what might very well be the best cheese knowledge in the Merseyside area.
They're so keen to share this understanding that they run regular Cheese Schools at venues, where they endeavour to educate the masses on everything from chevré to camembert. You'll also find them at food festivals and farmers' markets (they're regulars at Waterloo and Lark Lane), meaning it's easy to pick up a slab of something sumptuous when stocking up on artisan bread and cupcakes.
And that's before we've gotten to what, for us, is the most impressive part. The Liverpool Cheese Company makes wedding cakes. Out of cheese. They're just the thing if you're a couple looking for something a bit more exciting for your Big Day than the usual marzipan-laden monolith. You can see some rather fine examples of these tasty beauties on the shop's website. Theoretically, the cakes are supposed to feed 100 people, but we're fairly sure that we could make a sizeable dent in one on a Friday night, given enough wine and crackers. If you're not quite ready to "say it with cheese," it also sells a fantastic array of selection boxes; we love the Cheer Up Cheese hamper, which is perfect to send to someone who's feeling in need of something savoury.
With such a smorgasbord of delights, if you can't find a cheese to delight your palate here, you probably won't anywhere else. So why not throw away the spreadable triangles and lumps of rubbery orange stuff and support your local independent by paying this place a visit? Comfort food never tasted so good.