Shakespeare North Playhouse
Kristy Stott, Theatre Editor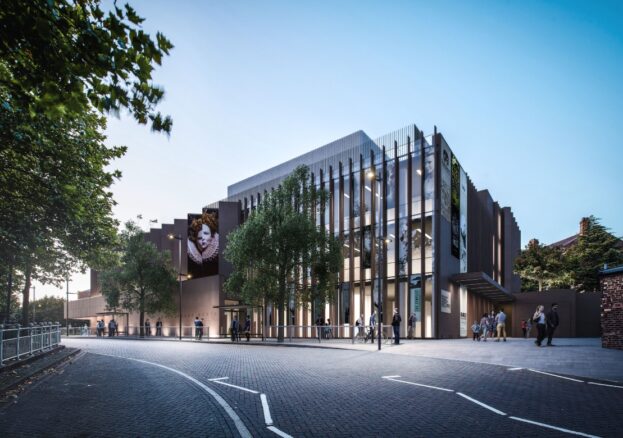 Shakespeare North Playhouse opened in July 2022 after almost two decades of planning. This iconic new theatre, education, outdoor performance garden and exhibition space in Merseyside has already made a big splash on the theatre scene – recently being awarded 'Theatre Building of the Year' at The Stage Awards 2023.
Occupying a space in Prescot, close to St Helens, the Shakespeare North Playhouse is a world-class cultural hub for the local area and an exciting new theatre for Liverpool and the North West. The venue works closely with its surrounding community while also supporting education and artist development.
With a stunning modern oak framed theatre – inspired by the cockpit-in-court design which was popular during Elizabethan times – the theatre has a capacity for between 320 and 470 seats. An inclusive and unique cultural and educational hub, the extraordinary building, spanning three levels, also houses a 60-capacity studio, a green room, classrooms and multi-use events spaces. With a digital gallery, an enclosed outdoor Performance Garden and a cafe/bar with access to a south-facing outdoor piazza, Shakespeare North Playhouse is a place to meet, a place to share and a place of inspiration.
The impressive building was a worthy winner at this year's The Stage Awards. The external modern concrete building contrasts beautifully with the extraordinary timber framework of the theatre – giving the perfect balance of contemporary performance alongside wonderful Elizabethan heritage and architecture.
Audiences can expect to see a variety of groundbreaking drama, comedy, music and film on offer here from local, national and international artists and companies as well as community-driven projects, artist development programmes and new commissions.
Shakespeare North Playhouse is a sparkling gem in the North West's crown and a key destination for theatre-makers and culture-seekers of all ages.