Kate Colin: The Art of the Fold at Manchester Craft & Design Centre
Sara Jaspan, Exhibitions Editor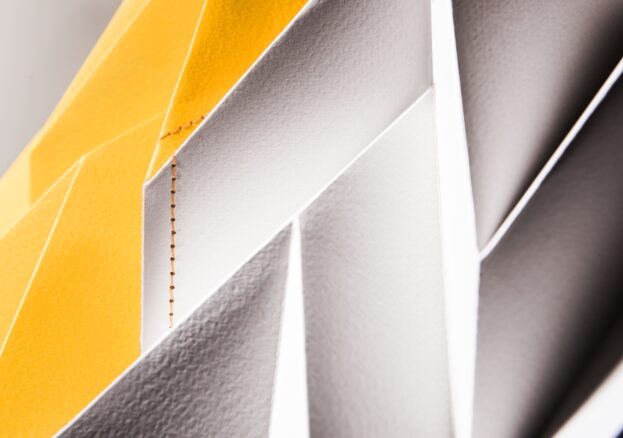 As the world of contemporary art becomes increasingly dominated by video installations, digital landscapes and 'immersive multimedia experiences', the comparative simplicity of older, more traditional crafts, such as pottery or textiles, appears to have taken on a renewed sense of appeal and significance. Indeed, an artist's ability to create something remarkable out of very basic materials and limited tools will always retain an intrinsic value.
The Art of the Fold at MCDC is a perfect illustration of this. Drawing upon the ancient craft of paper folding, designer-maker Kate Colin creates striking geometric artworks based on her own unique set of techniques inspired by mathematical forms and patterns within nature. Every piece is designed with the added combination of light in mind and, when illuminated, radically transforms – folds, creases and angles becoming emphasised, and Colin's experiments in colour, tonal variation and shadow revealed.
A passion for finely-crafted, handmade examples of bold, contemporary design makes MCDC an ideal setting for Colin's work, and one of the top suggestions on our Christmas shopping guide. For those inspired by the exhibition, Colin is also offering the chance to learn some of the skills involved in its creation, and to try making your own handmade lampshade, with a one-day paper folding workshop in February.