Jungle at Victoria Warehouse
Johnny James, Managing Editor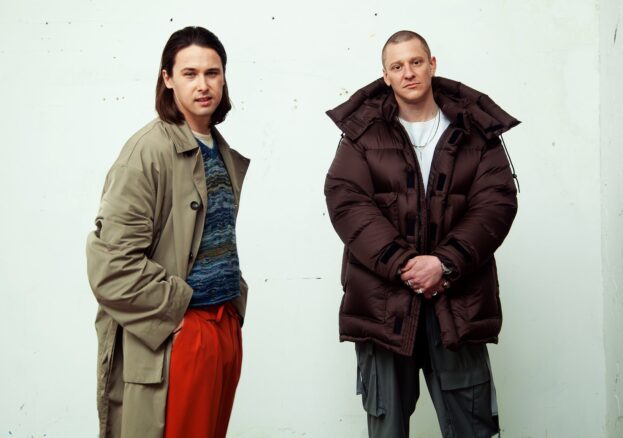 In support of their third album, London funk/soul collective Jungle are heading north for a two-night stand at Victoria Warehouse. Loving In Stereo is the soundtrack to a summer unlike any other. A huge disco record for the post-social distancing age, it's a celebration of liberation and community that sees the collective invite guest vocalists into the fold for the first time.
Jungle shot out of the blocks in 2014 with hit single 'Busy Earnin'', followed by a belting self-titled debut album released on XL. Filled with lazing dance grooves, fiery funk hooks and group falsetto vocals, it hit the UK Top Ten and received a Mercury Prize nomination, prompting a year-long global tour as a formidable seven-piece live act. 2018's pristine follow-up For Ever saw core members Josh 'J' Lloyd-Watson and Tom 'T' McFarland further refine their instantly-recognisable sound, and again hit the Top Ten.
While you could maybe say that Jungle played it safe with For Ever, there's a feeling that they're taking a few more (necessary) risks with album number three. Joyously indulgent single 'Keep Moving' stands alongside their best work to date, emerging from the ruins of the past year with one message: keep on going. With 70's disco at its heart, lush strings, shimmering synths, and steel drums elevate Jungle's typical musical palate towards a more cinematic end – intensified when you listen to the accompanying 'Dry Your Tears' intro track. Their sound has always been all-encompassing, but this is on another level.
Bouncing second single 'Talk About', written with friend and collaborator Inflo (producer of Little Simz and Michael Kiwanuka) is another slice of sun-dappled joy. Speaking about the track, the collective said: "It definitely gives listeners another taste of the energy we've delivered on this album. The bass riff and drum break were recorded very early on during the process of making this record and it was one of the songs where we really bottled the essence of the idea from very early on and not over-work it."
Both songs come with typically slick videos, reinforcing Jungle's striking visual identity and cementing their status as creative directors at the helm of an impeccably choreographed art project. The West Side Story­-inspired video for 'Keep Moving', co-directed with long-time collaborator Charlie Di Placido, is particularly good. It follows groups of dancers who move through an institutional building, working both together and in opposition as they bust out some absolutely scorching moves – all recorded in one take. Check it out above.
Across the 14-song Loving in Stereo, which came out on 13 August, we hear vocal contributions from the likes of Swiss-Tamil artist Priya Ragu and US rapper Bas. Opening the collective out in this way seems totally apt in a time when the walls keeping us apart are falling, thanks to the pandemic receding in the UK. After all, the album is about new beginnings, new love and fighting back against the odds. "When we write music there's hope," says Josh 'J' Lloyd-Watson. "Maybe today we'll create something that influences people and changes the way they feel. If you can make something that lifts people, that's an amazing feeling."
When the album's singles were released earlier in the summer, they served as a titillating reminder of the good times that lay ahead, when we could all unite under one roof, singing and dancing. That time is now. Enjoy it.