John Hegley at Waterside Arts Centre
Sarah-Clare Conlon, Literature Editor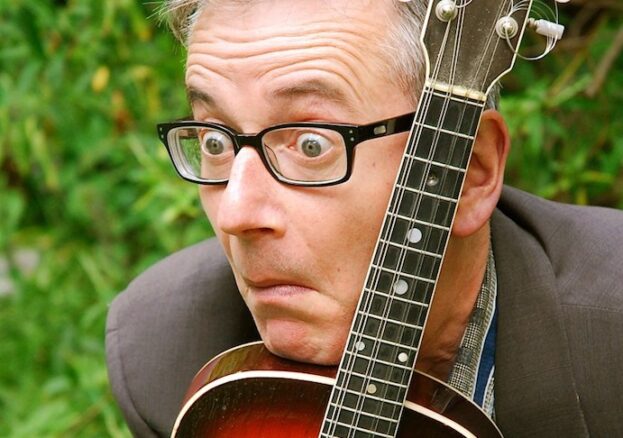 Poetry events can often err on the side of self-reverential, pretentious and even, dare we say it, boring. But one poet who we know will always bring a smile to our face – whose tome Can I Come Down Now Dad? had us in stitches back before anyone LOLed – is the master of comic verse, John Hegley.
John Hegley has performed on the streets of London, is an Edinburgh Festival regular, has sung and spoken his performances across the BBC radio network, has had his own BBC Radio 4 slots, including Who Does John Hegley Think He Is?, has produced prose pieces and is a heavily published author, with 21 books to his name. He is an occasional dancer on stage and page, and a workshop leader using drawing, poetry and gesture, and he is an urgent ukulele player and lover of mandolin. He is, in short, a very busy man.
He could also be accused of being slightly obsessed with the humble spud – we cite the titles of his three most recent collections as exhibit number one through three: Peace, Love & Potatoes, I Am A Poetato and New & Selected Potatoes.
In this show, he talks about dog hair, handkerchiefs and – of course – potatoes in a philosophical framework. Fresh from Ledbury Poetry Festival and Tongue Fu at the Spiegeltent in London, grab the latest leg of his tour as part of Waterside's Refract:17 festival.