Host by Hilary Jack across Spinningfields
Polly Checkland Harding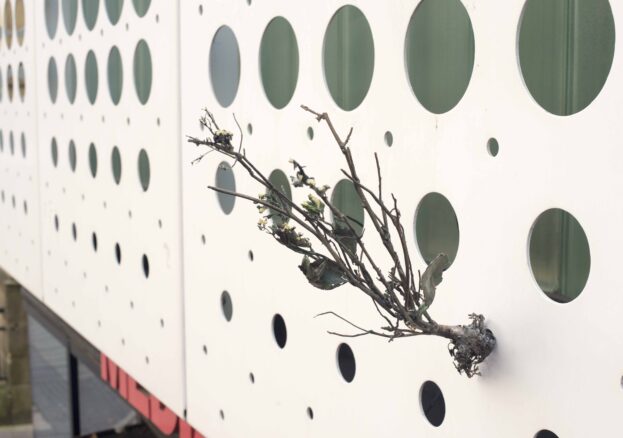 Over ahe last few weeks, a series of unusual looking wild plants has appeared across Spinningfields – emerging from paving stones, the sides of walls and in the foyers of office buildings. Not only are they an unfamiliar sight in this typically spotless Manchester district, they're also not real. Look closely and you'll discover that these are beautifully made sculptures, hybrid casts of plants ranging from foxgloves and cow parsley to thistles and buddleia. There are nine in total, and altogether they make up Host by Manchester-based artist Hilary Jack, the second ever Spinningfields Art Commission from Allied London, produced by Castlefield Gallery.
Host is, in fact, part of Allied London's commitment to the work of the Manchester Homelessness Charter; in May 2016, Allied became the first business to sign up to the Charter – which has set out to end homelessness in the city – pledging £10,000. The aim of the installation is to keep the issue of rough sleepers in the city at the front of people's minds – and Allied has chosen an impressively challenging way in which to do so. Jack's sculptures subvert the built environment of Spinningfields, asking people to look harder at their surroundings. '"The core of it is about the overlooked," she explains. "It's quite easy to walk past certain things and see them, but not really notice, or pay attention." Using bronze, the traditional material for often imposing public realm sculpture, Jack has created a series of delicate casts of plants that typically grow in forgotten urban places. By transplanting them into Spinningfields, she questions the value we so easily give to public art, versus the way in which we tend to denigrate natural creations.
Host is also a reflection on Jack's own feelings about the homelessness situation in Manchester. "I've been very disturbed to see what's happened with the homeless rough sleepers in Manchester in recent years," she says. "I've lived in Manchester for a long time and I've never seen it worse. Every 20 yards or so there's someone asleep on the street, and I wonder how it's possible that it's become normal to walk past someone like that."
Whilst Jack hopes "that people will look at the built environment in a slightly different way" as a result of her work, Host will also have a very tangible impact: the sculptures are to be sold to raise funds for the Manchester Homelessness Charter. Each sculpture is one-of-a-kind and anyone interested in purchasing one should contact Jennifer Dean at Castlefield Gallery on jennifer@castlefieldgallery.co.uk. In the meantime, the public can explore the installation using the specially-designed map, with the accompanying social media campaign (search the hashtags #SpinArt2016 and #MCRHomelessnessCharter) helping to promote different aspects of the work of the Charter. You can also join Hilary Jack, along with Kate Jesson, Curator at Manchester Art Gallery and Councillor Beth Knowles, on a walking tour of Spinningfields to discover Host – book your tickets here.