Hey Colossus at The White Hotel
Johnny James, Managing Editor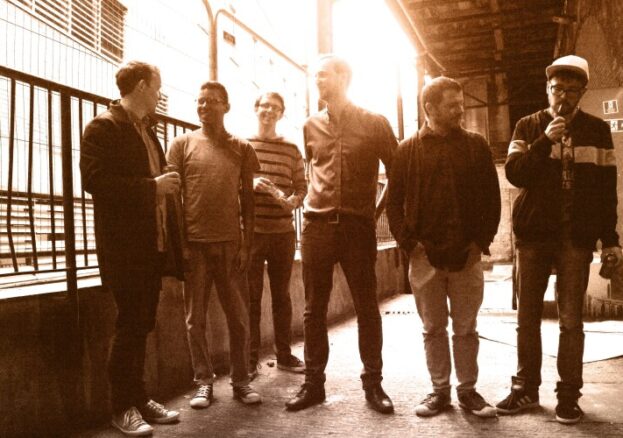 Hey Colossus have long specialised in producing an unholy racket. At times skirting the edges of metal, at others digging into Krautrock, their deep, heavy psychedelia often makes for a transcendent experience on record, and by all accounts their live shows take things to a whole new level.
20 years into their career, Hey Colossus' well-oiled noise machine is in fine form on their latest record, Dances/Curses. Their lucky 13th album is the sound of a band at the peak of their powers of intuition, the telepathic interplay between the six members stronger than ever. Tempering the menacing savagery of their older work with moments of quiet beauty and introspection, the album is billed as sitting "somewhere on the great continuum between Unwound's Leaves Turn Inside You and Stevie Wonder's Journey Through The Secret Life Of Plants, somewhere between the dances of aspiration and the curses of reality".
The primal epic 'The Eyeball Dance' sets the tone, its motorik rhythms and lean guitar riffs introducing an album that's more focussed than anything we've heard from the band previously, its slowly blooming structure a masterclass in tension building. The same atmosphere, with its droning feedback and angular guitar flourishes, bleeds into 'Donkey Jaw', an infectious, cinematic track that showcases the band's knack for tightly controlled chaos. Longterm Hey Colossus fan Mark Lanegan makes an appearance amid the languid and sun-soaked denouement of 'The Mirror', the existential gravitas of his sandpapery voice entirely at home in these revelatory surroundings.
Fitting for a band who operate by their own co-ordinates, Dances/Curses was released on bassist Joe Thompson's own Wrong Speed Records, his latest venture in a lifetime of steadfast belief in the DIY maxim. "It's 100% time for all bands to take control of their shit" he says. "All the tools are there to do it yourself. Back your own horse. It's practical. It's positive. There is a chance things will never be the same, if change doesn't happen now it never will."
It's hard to imagine a better live venue for this band than The White Hotel, which stands out in the increasingly homogenous landscape of clubs in the North as a unique, grassroots outlet for the city's creatives, revellers and shadow dwellers. Tucked next to Strangeways in deepest, darkest Salford, there's a feeling that anything goes between its industrial, sweat-licked walls, and gigs that happen there are simply more exciting due to the fact they're happening there. Add this to a band whose live shows, by all accounts, are deliriously unhinged, rife with a thrilling kind of danger, and you've got a winning combination.
No doubt that somewhere above the Salford smog, the stars will be aligning on 16 July.