Grimmfest's Zombie Double Bill at Stockport Plaza
Tom Grieve, Cinema Editor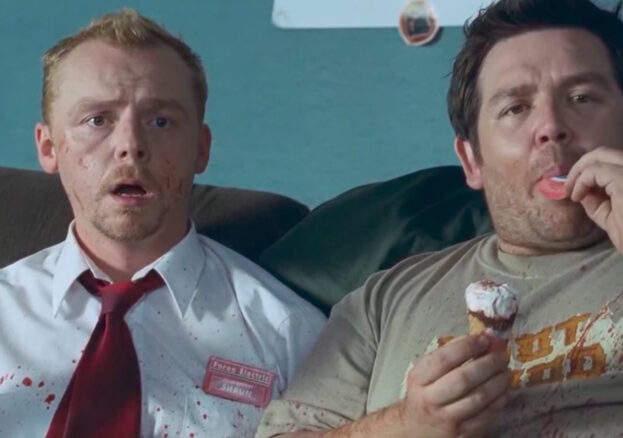 Grimmfest get gory with a zom-rom-com double bill staged in conjunction with The Horror Channel's Zombie Month. Straddling the Atlantic, this terrifying twofer consists of director Edgar Wright's breakout Brit-hit, Shaun of the Dead and Ruben Fleischer's Hollywood production, Zombieland at Stockport Plaza. A ten minute train journey from Manchester city centre, the Plaza is a restored 1932, Grade II listed building and one of our favourite places to catch a movie. For their part, Grimmfest specialise in cult, horror and fantastic screenings, delivered with added extras and a community atmosphere.
Despite their different origins, these zombie comedies pair together remarkably well. Taking their cue from George A. Romero's genre-defining work, each film pays respectful homage while finding individual comedic tones and increasingly ridiculous ways to dispatch the undead. Both films also provide opportunities to look back at the beginnings of some of contemporary cinema's biggest stars.
Shaun of the Dead united the talent behind TV's dosser-comedy Spaced on the big-screen. Director Edgar Wright (Hot Fuzz, Baby Driver) has continued to work, with and without stars, Simon Pegg and Nick Frost – but it's arguable that their standout effort was here, battling zombies across suburbia. In hilariously transposing the everyday romances, bickering and grievances of a couple of flatmates to an apocalyptic setting, Wright and co. produced a relatable comedy which stands up as a modern cult classic.
In 2017, Emma Stone won Best Actress for her work on Damien Chazelle's dazzling La La Land, but she was impressing years before in her role as Wichita, surviving the end of the world opposite a young Jesse Eisenberg in Zombieland. Much loved, ten years on from release, the film also boasts the talents of veteran actor Woody Harrelson and Little Miss Sunshine's Abbie Breslin as the other members of a motley, zombie-fighting foursome – and that's not to mention a best left unspoiled comedy cameo.