Enchanted Parks – Gateshead
Alice Hiley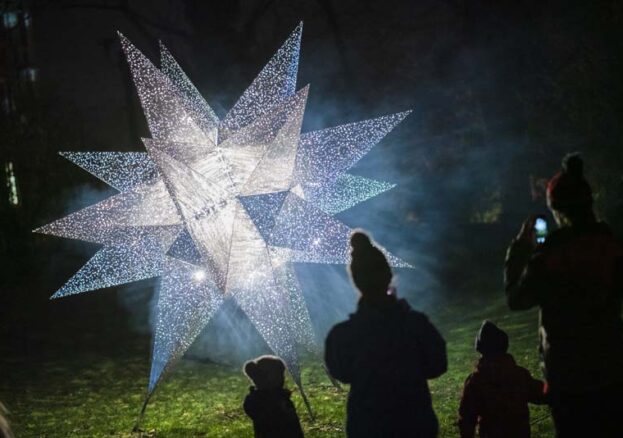 Returning for its eighth year in 2021, Enchanted Parks is a highlight of Gateshead's Winter Festival. See Saltwell Park transformed into a winter wonderland with a series of sculptures, installations, performances and interactive works. The spectacular illuminations cast a light on the grandeur of this Victorian country house and its expansive 55-acre garden. Thousands of people young and old from across the country flock to the nighttime art trail every year.
Organisers Magnetic Events invite artists from the North East and across the UK to create new large-scale pieces with playfulness at their heart –  the artworks on display encourage you to let your imagination run wild.
The event is always tied together with a theme to harness the magic of the festive season. In previous years Enchanted Parks has told the story of Ursula Wailes, the heiress of the Saltwell Estate; guests were invited to attend Ursula's 'Inventors' Ball' and witness her wacky illuminated inventions. Following along with the story as you wander around the park helps turn the event into a real after-dark adventure, which kids and adults will love equally.
Music is a huge part of Enchanted Parks and you'll get to hear the best local brass bands play as you're exploring the grounds. You won't get hungry thanks to food and drink stalls by local vendors, and you can even buy gifts from local artists at the miniature Christmas market.
There's plenty more to do in Gateshead if you fancy extending your trip –  there's a food and wine fair at music venue Sage, and at Ouseburn Open Studios you can buy goods from local artists, printmakers, jewellers and furniture makers. The Winter Festival is topped off with a New Year's Eve Carnival, one of the biggest events in the country.