Interview: Diving Station, Ahead of EP Launch at Gullivers
Johnny James, Managing Editor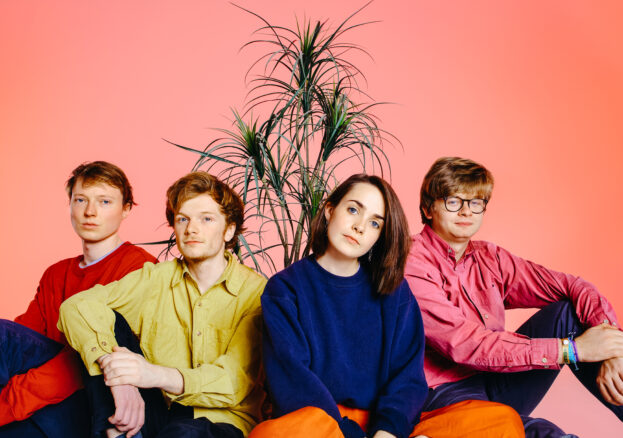 Some of the most enchanting music coming out of Manchester right now belongs to harp-driven dream pop band, Diving Station. Filled with anthemic songwriting, gorgeous harmonies and inspired lyrics, their forthcoming EP Feather Mouth is the sound of a young band in full bloom. Recently we had the opportunity to chat with them about their upcoming release and its accompanying tour.
It's a grey Monday morning, and I'm sitting in Common in the Northern Quarter supping a black coffee and listening to 'You're Not Listening', the excellent first single from Diving Station's new EP. I am here to meet Anna McLuckie and George Burrage, the singer/harpist and bassist from the band. Gazing out of the steamed-licked window I notice the pair turn the corner of Edge Street, their fists filled with mustard-coloured flyers detailing their latest tour. They've spent the morning dotting these around Northern Quarter haunts, with the view of packing out their gig at Oldham Street's beloved Gullivers in just under two weeks' time.
Sitting down, the pair happily oblige in retracing the steps that led to Feather Mouth.
George tells me that the four members of Diving Station met in 2014, whilst studying at the Royal Northern College of Music. Drummer/vocalist Barnabas Kimberley, I learn, matchmade the band, putting two and two together as early as freshers' week. George was excited to find a fellow Thom Yorke fanboy in guitarist Sean Rogan.
GEORGE: "I remember being shown around the library when Sean came up to me and complemented my Radiohead top. I was like, 'oh, we're going to be good friends, aren't we!"
Bonding over a shared love of indie music (collectively their favourite band is Dirty Projectors), the foursome set to work on demos. These songs eventually made up Alice, their debut EP, which they released in early 2017. It's an ethereal folk pop record, characterised not only by the intriguing use of the harp, but by the clever entanglement of vocal parts. On most tracks, Anna's pure and distinctive voice is paired with Barny's breathy, Oliver Sim-esque tenor. This works to powerful effect, especially in the EP's closing track, 'Drown'.
https://www.youtube.com/watch?v=v-dzOEd0qig
It's been two years since Alice, and from what has been released so far, their sophomore EP seems to represent a new stage for the band. These tracks are intriguingly darker, more dream pop/shoegaze than folk, and impressively focussed. They also differ lyrically. Whereas Alice was fairly sprawling, Feather Mouth hones in on one theme: communication. 'You're Not Listening', for example, discusses the cyclical and nonsensical nature of arguments, asking whether it's ever really possible to portray our true feelings with words. These lyrics, I learn, were crafted using an interesting method.
GEORGE: "I was reading a book about David Bowie's Low and learned how he used this dada poetry technique. You basically write strings of sentences, taken from newspaper articles or whatever, and then cut them up and randomly re-arrange them."
ANNA: "So I wrote out [the lyrics of 'You're Not Listening'] like a transcript of an argument, and then we decided to cut them up so it sounded more nonsensical. We laid it all out on the floor and moved it around, like a jigsaw."
Both Anna and Barny's vocals shine brightly in this tune. I ask about the process of dividing up the parts.
ANNA: "I think in Alice, we just wanted some harmony, plus Barny loves singing and it worked. But [in 'You're Not Listening], we used it as a tactic for making it sound like different personalities in an argument. We do it a lot where we're singing two different sections at the same time, and it helps create this feeling of disconnection. It's almost like two people having different conversations."
On the instrumental side of this track, Sean's lush guitar lines are intoxicating. They create a woozy, dream-like atmosphere, whereas George's bass parts are focussed and melodic, deftly knitting the drums to the vocals. One instrument that takes a rare backseat in this tune, though, is the harp.
GEORGE: "I'm sometimes worried about being that gimmicky band with a harp, so I don't want to rely on it. It's cool to write with, especially alongside guitars, but it's just an instrument".
ANNA: "Yeah, the harp is there because it has a place, not because it looks good. And if you hold it back and use it sparingly, it's much more effective."
The more the band talk, the more clear-sighted they seem about their vision. Simplicity, it emerges, is what they champion most these days.
GEORGE: "Simplifying stuff. Not getting overly complicated. That's a big struggle at music college when the music that is presented is very complex."
Anna: "I agree. It's like an overload of information, and I think that as an artist that can come out in your writing."
Having broken free of complexity, it feels like the band are in a position to more easily and more purely speak with their own voice. Whether subconscious or not, they've documented this process in Feather Mouth's second single, 'Taking Tongues', whose chorus cautions: "Don't lose yourself in someone else". Similarly, the verses offer the insight: "Sometimes we need to speak our minds, whether it's just or it's just a reaction that's over the line." This – Feather Mouth – seems to be that reaction. It just happens to be a very beautiful one.
As well as showcasing the band's talent for songwriting, 'Taking Tongues' also showcases the masterful production of their new music. Anna's keen to speak about this.
ANNA: "Both EP's were done by Hugo Meredith-Hardy. He's integral to the band, almost like the fifth member. He was at Leeds College of Music when we did Alice, and we've all progressed together – his production has developed at the same time as our writing."
Diving Station's recent live videos, I learn, were recorded at Hugo's house.
GEORGE: "He's got this crazy haunted mansion in the Cambridgeshire Countryside. There are Peacock's everywhere, and a lake with a fountain in it. Most of the EP was recorded there, too".
As we begin talking about other bands that Hugo works with, one name in particular sticks out.
ANNA: "Caro are brilliant. They're supporting us in Manchester and we're supporting them in Leeds, at Hyde Park Book Club. We always try to make it so that there's a personal reason behind our line-ups. Like with our Alice EP launch we had Hugo's own band supporting."
With Diving Station's seven-date tour just getting started, Anna and George are clearly eager to get this new music off their chest in a live setting. Oxford, Nottingham, Hull, Leeds and London are all on the cards, but it's obvious that their most anticipated show is the one closest to home. Having grown an affection for the city that's nurtured them for the past five years, they've chosen Manchester's Gullivers to be the location of the official EP launch event.
ANNA: We're really excited for this one. It will be our chance to share everything we've been working on for so long. We hope as many people as possible can come down and enjoy it with us!"
It promises to be a special night, and at only £7 a ticket (that's less than the cost of two pints!), there's no excuse for not scrawling the date in your diary immediately. Click here to bag your ticket.