Diving Station (online)
Johnny James, Managing Editor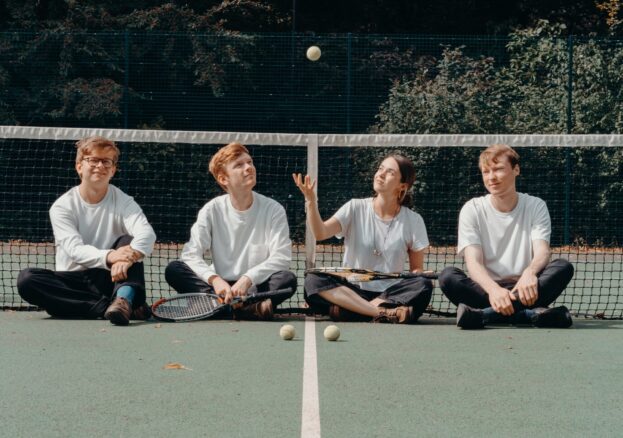 On the cusp of releasing their third EP June Damp, Manchester four-piece Diving Station find themselves at an exciting juncture. The harp-led indie pop band have spent five years exploring different writing styles and trying on new sounds. Now, they seem to have arrived at a place that feels like home.
Listening back through their music of the last few years it's easy to follow the progression of Diving Station. Their 2017 EP Alice was a thing of delicate folk pop, with singer Anna McLuckie's wistful vocals and dainty harp melodies featuring centre stage, between light touches of guitar, bass and drums.
2018's Feathermouth EP saw the band bulk out their sound, moving into full-bodied indie pop territory. Sean Rogan's woozy, occasionally grungy guitar parts were pushed forward, and the bass and drums were more driven. The intersection between these new sharper edges and the softer sounds of Anna's voice and harp was pretty stunning, with 'You're Not Listening' still in our regular rotation.
Two singles – 'Film' and 'Honey Bees' – saw Diving Station sharpen their edges further, experimenting with off-kilter electronic drums, fully distorted guitars/bass and faster tempos. The songwriting behind these tracks also felt more focussed, and Anna's voice more assured and characterful.
The culmination of five years of growth and experimentation, Diving Station's new EP June Damp is their best work yet. Together with producer Hugo Meredith-Hardy (David Gray, Tallsaint, Caro), they've distilled their sound into its purest elements, and left more room in the arrangements for the nostalgic, dreamy soundscapes that they do so well.
The pared down textures of the title track conjure visions of the hazy, serene summer that we never had. Against a backdrop of woozy guitars, filigree bass patterns and wistful harp arpeggios, Anna sings a lullaby to the earth, full of dreamy, pastoral images. There are also these intermittent, Sylvan Esso-eque a capella moments, which work as a kind of palate cleanser before we dive back into the summer haze. It's simple but very effective.
'Fruit Flies', the second track of the EP is also blissfully nostalgic, but there's a grittiness in the glitchy-sounding guitars and in the rhythmic insistence of the drums – a lovely contrast. 'Joanna', meanwhile, is more enigmatic and meandering, with an unusual cyclical structure and lyrics about confronting your emotions. Both songs remind me of one of those recipes that requires just a few ingredients to produce something rich and complex; they're showcases of simplicity really working.
Diving Station are launching June Damp with a livestreamed performance on 27th November, presented by Rec Rooms. Support comes from Danny Addison and Marco Woolf, and Anna McLuckie will be hanging around afterwards to field questions from the online audience. You can tune into the action via Facebook or Twitch, and you can pre-save June Damp here.