Dino Kingdom
Sarah Gaffney-Lang, Families Editor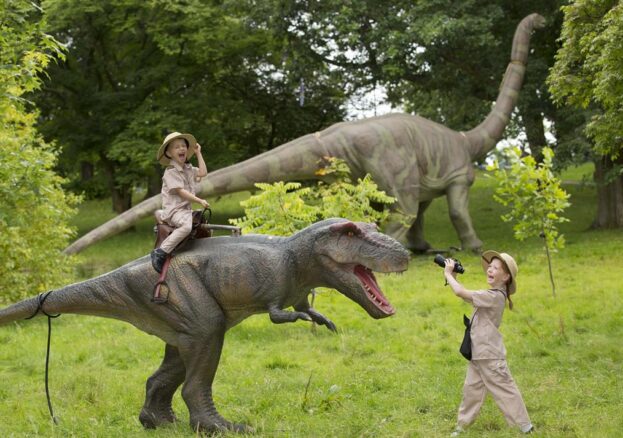 Calling archaeologists big and small! Dino Kingdom is taking over Wythenshawe Park until 8 August 2021, and what a spectacle awaits. It may have been some 65 million years since their extinction, but with over 70 3D, life-like, moving, and roaring prehistoric creatures, Dino Kingdom transports visitors into a magical kingdom like no other. These humongous creatures tower over even the tallest adults ready to delight kids of all ages – from little ones just beginning to totter to bigger kids who'll be racing around.
Manchester's 270-acre Wythenshawe park provides ample space to roam in picturesque surroundings. Featuring ornamental woodland, wild meadows, and a bandstand, the park is worth a visit any time of year but especially now, with these special guests in situ. Highlights include a huge Tyrannosaurus rex and the star of the show: an Apatosaurus, which clocks in at a whopping 18-metres long.
If meandering around the collection of epic creatures isn't enough, then there are a whole host of other activities for families – including fairground rides (think dodgems) and interactive areas ripe for discovery. Kids can get digging and conduct their own excavations to unearth fossils, eggs, and dinosaur skeletons before trekking through a long fossil tunnel. What's more, live jesters in costume will be roaming the grounds offering fun facts and 'insider knowledge' on what's happening in the parklands dinosaur community.
Be sure to download the Dino Kingdom app in advance, which enables you to discover hidden dinosaurs from your phone screen adding an extra layer of excitement to your walk.
On site, you'll find plenty of options for keeping fuel levels topped up with a range of delicious street food outlets and drink vendors dotted around the site. And word on the street is there are plenty of vegan options too.
So then, sensible shoes on! Picnics and snacks at the ready! It's time to go on a roaring dinosaur hunt.
—
Please note that pushchairs and buggies are welcome although there is no storage facility. The Dino Kingdom route takes place in a grass field with no hard paths. The ground is flat but may be wet and/or muddy depending on weather conditions.