Digital Natives at 34 Boar Lane, Leeds
Sara Jaspan, Exhibitions Editor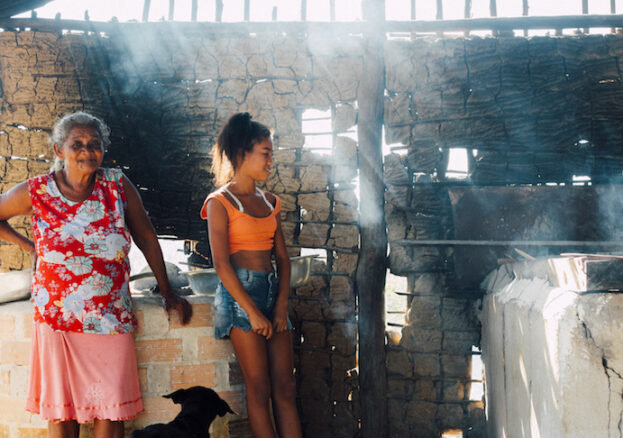 The initial, utopian vision of the internet and social media as tools of citizen empowerment and democratisation has dampened in recent years, as the digital sphere has become increasingly privatised and we begin to realise the extent to which the data by-product of our engagement leaves us vulnerable. Yet Digital Natives appears to be a rare counter-example to this narrative.
Part of Leeds International Festival 2018, the photographic exhibition explores the radical role that digital technology has played in the lives of indigenous people in North East Brazil, since it was first introduced into their communities in the early 2000s. The story is in fact one of celebration, showing how digital cameras, smartphones and the internet have been used by indigenous north east Brazilian people to connect and build strong networks between individual communities, increase their cultural visibility, fight prejudice, defend their rights, and provide a means of creative expression. Together they have set up the ethno-journalist website, Indios Online, run several online educational networks, sell craftwork, share information about environmental sustainability and more.
Digital Natives is a collaboration between members of these communities, Thydêwá (an award-winning human rights NGO made up of indigenous and non-indigenous people that works to promote intercultural dialogue) and Portuguese photographer Ângela Ferreira, who travelled to north east Brazil in 2012. Ferreira's Retratos Pintados – a series of 'touched-up' portraits' whereby the artist photographed members of the Tupinambá community and then invited them to 'colour in' or 'touch up' their image to better represent how they want to be seen – will feature in the show, alongside images taken by Thydêwá.
The exhibition launch at 34 Boar Lane on 28th April will be a unique opportunity to meet the team behind Digital Natives, who are visiting from Brazil and Portugal; while a special film screening and talk – Indigenous People Go Digital – held later that day will offer further insights into what digital technologies mean to the indigenous people of north east Brazil, and how they use them. A series of free workshops will also be held on 29th April, offering children aged between 6 and 16 years the opportunity to create their own self-portraits in response to the exhibition, and explore what being a 'digital native' might mean to them.