Bundobust Leeds
Dan Curley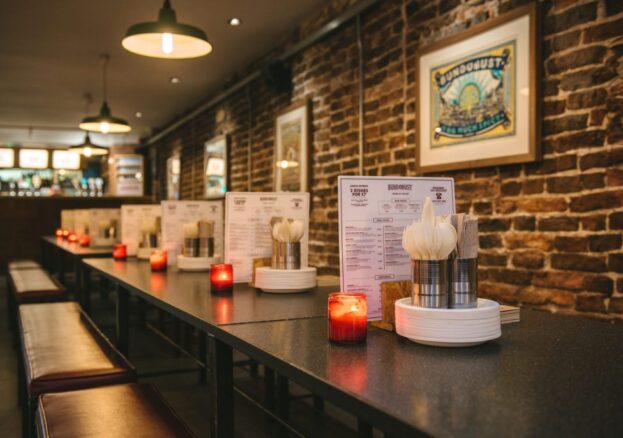 It might sound like a mid-90s Indian gameshow akin to Deal or No Deal, but when dining at Bundobust Leeds – everyone's a winner. It's becoming a heavyweight on the Northern vegetarian and vegan circuit, now stretched across the powerhouse from Leeds, Manchester to Liverpool. This socially-conscious meatless Asian fusion canteen/bar has a buzz so strong it could – like Aldrin – eventually reach the moon. We're in Leeds – the first one just minutes walk from the train station – to check out their more recent tucks.
This is not a place you'd take your parents to for a bells and whistles anniversary meal – it's young, lively, cheap and fresh; full of students, hipsters and younger professionals after a quick scran with a few of their many types of beers. The walls are covered in doors at odd angles, like someone's been playing doorway-Tetris, and the tables wouldn't look out of place in a prison, possibly used for arm wrestling tournaments. But the rustic chattel works in harmony with the Indian street food, all served in small compostable pots.
Bundobust doesn't do fake meat, so anyone hoping for a Burger King Rebel Whopper-type scoff should look elsewhere
The new big special is the vegan vada pav burger, similar to the current veggie one, just in an egg-less bun. Bundobust doesn't do fake meat, so anyone hoping for a Burger King Rebel Whopper-type scoff should look elsewhere. It looks like what it is – a massive ball of fried mashed potato on a bun with chutneys (with a big scary-looking fried green chilli next to it if that takes your fancy). It's a little dry (until you dip it into something), but has an agreeable flavour and is a filling beast.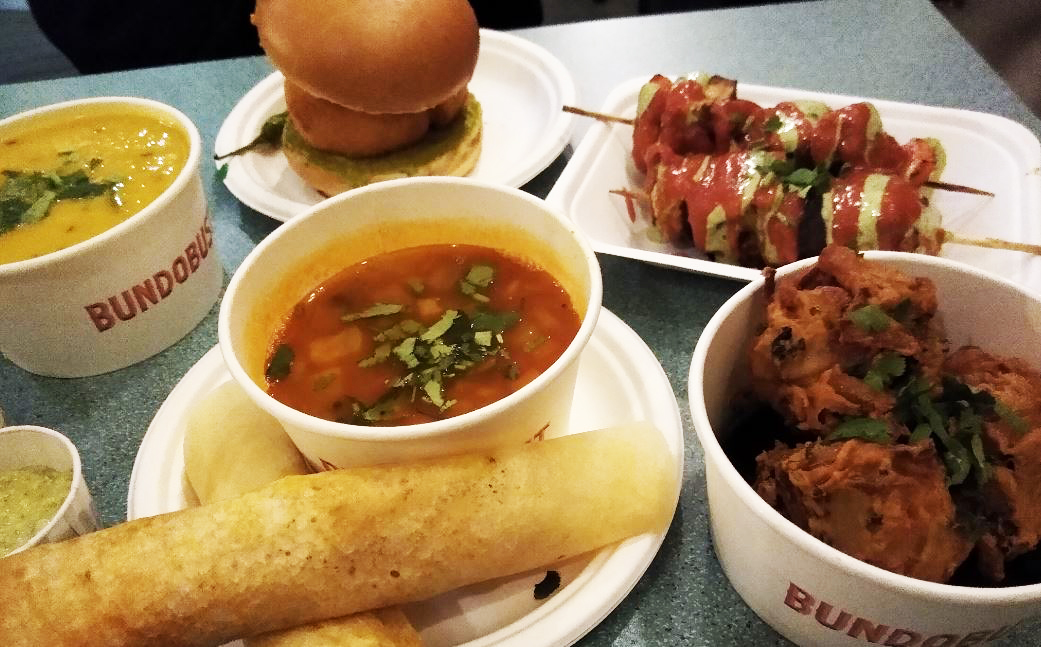 A popular option for two is the combo for two, which comes in both vegetarian and vegan arrays. Not being vegan I pick vegetarian – well priced at £25. There are five items on this tray – so let's take them one by one.
First up, the bhajis, three crispy balls of onion, kale and broccoli which are injected with fennel and chilli. The tamarind and red pepper chutney it comes with has a sticky texture far closer to Chinese plum sauce than traditional Indian dips. It's a wonderful fusion of Asian textures and all are demolished in seconds.
The bhajis are crispy balls of onion, kale and broccoli, injected with fennel and chilli
Next, the paneer tikka, two sticks loaded with barbecued paneer, mushrooms and peppers, coated in tikka masala yoghurt with red pepper ketchup and spinach chutney. This is outstanding stuff – creamy and juicy and the paneer would be sorely missed on the vegan option (well, to non-vegans).
From first glance, the tarka dhal looks more like carrot soup. Give it a good stir and the basmati rice rises from the bed and gives the dish its body. It's a lentil curry with cumin, garlic, and chilli, and is a nice if not particularly revolutionary dish.
Fans of thin watery soup will love the massala dosa, a pot of lentil and aubergine liquid that is probably best drank from the pot when cooled. It comes with two rolled-up pancakes filled with cauliflower and potato massala that were very gratifying to the gob.
A magical medley of food bits that was gobbled up with a huge grin
By far the most unusual dish is the Bundo chaat. This warm pot of pleasure has plenty of samosa pastry mixed in with chickpeas, potatoes, onion, sev and with a dash of chilli sauce. It also has a welcome splash of yoghurt and tamarind chutney. It's a magical medley of food bits that was gobbled up with a huge grin.
Bundobust Leeds is a great place for either lunch or an evening meal, and as it's a bar you could eat and get hammered in the same venue. The £82 "Bundo Combo" will do between six and eight (depending on appetites) and is ideal for a small party of sharers wanting to try a bit of everything. Get involved – the fact it's always bustling, even on school nights, signals they're doing something very, very right.