Dave Pearson: Return to Byzantium at The Turnpike, Leigh
Amy Foster, Contributor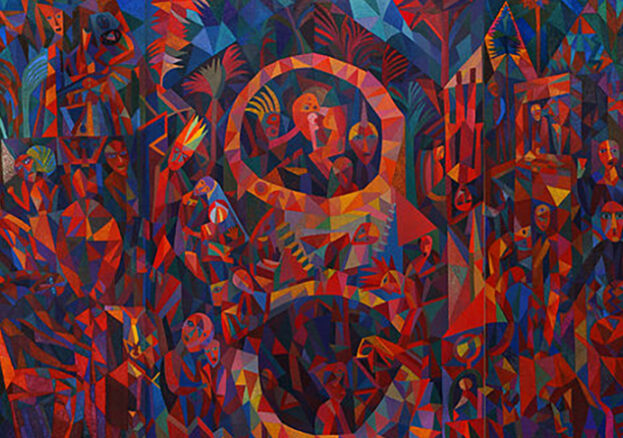 Return to Byzantium revives the late Dave Pearson's 1994 exhibition Byzantium shown at The Turnpike in Leigh. The ambitious show saw Pearson fill the gallery space with his grand, innovative paintings, which were designed to fit the architecture of whatever building they were presented in. Often faced with too great an abundance of works, he often resorted to hanging pieces on the ceilings after running out of wall space.
In the artist's obituary, his fellow lecturer, Margaret Mytton, at Manchester Metropolitan University wrote; "His images crowded in on one another in such a way that visiting one of his exhibitions was like walking into a huge single painting rather than viewing separate objects" – a testament to the artist's vigour and enthusiasm for immense art practices. 24 years on, The Turnpike revisits the legacy behind these magnificent, site-specific paintings from an avant-garde artist.
The body of work is inspired by W.B Yeats' poem 'Sailing to Byzantium' (1928), which illustrates a figurative journey to an idyllic paradise. Pearson translates this beauty and adventure within his own work with boundless flair, subverting the conventions of painting presentation. His shaped canvases and rich colours offer us solace from reality in the bejewelled worlds he builds around his viewers.
In our fast-paced, de-sensitised culture, Return to Byzantium will invite visitors to enter and immerse themselves within Pearson's utopian creations; encouraging us to reconnect with what it means to be a part of something. The striking spaces Pearson constructs consumes the viewer with an intensity that stirs the emotions.
Popular for his extensive community involvement in and around the North West and teaching at Manchester Metropolitan University for nearly 40 years; Pearson amassed a vast following during his prodigious career. Pearson's intent to engage the widest of audiences emerges in his captivating painting-installation hybrids, which evoke awe in the scale of the artist's vision and imagination.