Dark Arts with The Orielles at Belgrave Music Hall
Philip K Marzouk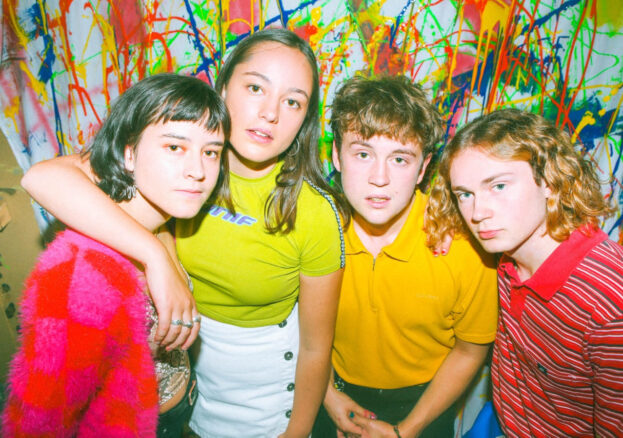 On 16 February, The Orielles headline a day-long event curated by prolific Leeds based promoters SUPER Friendz. A year to the day since the release of their debut album, Silver Dollar Moment, there's no better time to catch The Orielles, before they're all you hear about. Listening to their output, it's hard to fathom that this Halifax four-piece have an average age of 21. Before this preview continues, here's their new single 'Bobbi's Second World', officially the best song about a cat since Willy Mason's 'Where The Humans Eat'.
Blondie meets Cocteau Twins meets Best Coast: a match made in heaven. Listening to Silver Dollar Moment there's an inexplicable sense of nostalgia even though the band members are barely out of their teenage years. A big part of this is that they manage to craft guitar music that is never cookie cutter. Taking the chorus laden sounds of eighties guitar bands but layering them with psychedelic instrumentation (Wurlitzer organs and non-descript space sounds), you'll think you've got them figured out by the end of 'Old Stuff, New Glass' and 'Sunflower Seeds'.
Then 'Let Your Dog Tooth Grow' plays. Reminiscent of Sonic Youth and The Pixies, you realise you're listening to a band who understand so much of the world of guitar music that long pre-dated their births. This flows straight into 'Liminal Spaces', a mature, harmony laden and expertly crafted tune. It then lulls into a short fusion jam, 'The Sound Of Liminal Spaces', that wouldn't be out of place in the 9th minute of a David Axelrod tune.
Then 'I Only Bought It For The Bottle' plays, a song that puts them alongside The Big Moon as some of the best purveyors of guitar-pop currently going, even if the song is merely about a well-dressed but disappointing beverage. There's a sense that you're getting a voyeuristic preview of their live show through the record, a rare treat within an industry landscape where post-production rules the roost. This remains true of the rest of the album with their exemplary song-writing on display until there's one final surprise in the form of 'Blue Suitcase (Disco Wrist)'.
How about a bit of disco influence to close the album? Sure, why not? It's this consistent stream of surprise and nostalgia that will speak to any fan of guitar music back from when that term wasn't derogatory. It remains to be seen who will be joining The Orielles for this day-long event but the headliners are undoubtedly worth the price of admission alone.