Bdrmm at The White Hotel
Johnny James, Managing Editor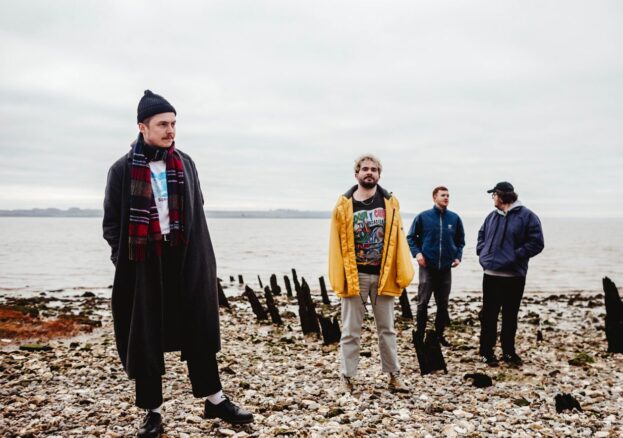 In 2020, Hull-based shoegazers bdrmm made the kind of impact with their debut album that any young band would dream about. Clash hailed the self-titled Bedroom as "a heady, forward-thinking shoegaze distillation". NME called it a "modern-day shoegaze masterpiece". Such lofty critical praise did wonders for the band, but it also begged the question: Where to go from here? Especially within a fairly specific genre niche. Onwards and upwards, answers bdrmm's second record, I Don't Know, which they're bringing to The White Hotel this November.
Released in summer 2023, three years on from their debut, I Don't Know is shoegaze in a way, but it's also much more. Again recorded at The Nave studio in Leeds with producer Alex Greaves (Working Men's Club, Bo Ningen), the band's trademark effects-laden guitars and motorik Neu! grooves have now been augmented by piano, strings, electronica, sampling and even occasional dance beats, creating bigger, fuller soundscapes to get lost in.
Marking their first release on Rock Action, the label founded and run by Mogwai, I Don't Know was written on tour between Hull and the French Alps. These winding journeys saw the band absorb new influences, while digging deeper into long-time favourites like Thom Yorke and Radiohead. We hear the Oxford band's presence right away as the muffled, minimal dance beat and whirring synths of 'Alps' kick off the record – something of a statement of intent, introducing us to the band's larger, electronically-embellished soundworld.
We hear more of this in the stunning 'It's Just a Bit of Blood', a brooding, masterfully-paced track that is by turns heavy and stark as Ryan Smith's airy, vulnerable vocals ask 'Where did my heart go?', weaving poignant melodies across even more poignant harmonic movements. The album's second single, 'Be Careful', is something different, its trip hoppy drums and loose, syncopated bass line providing the bedrock for shimmering guitar and synth soundscapes while singer Ryan Smith urges "Be careful of yourself. Prepare for something else. It's coming" – one of a number of lyrics across the album that deal with healing, following addiction or mental health issues.
This triple punch of great tracks sets the tone for the rest of the album, whose cinematic expanse belies the importance of producer Alex Greaves, whom the band see as a fifth member. Fragile ambient pieces line up against pulverising guitar chords, sometimes within the same song. There are ambient washes and delicate piano pieces, while reference points veer from the aforementioned Radiohead to My Bloody Valentine, the Cure to Brian Eno, and perhaps the minimalist classical of the likes of Erik Satie.
Whatever has produced it, it's a bigger-sounding, more tuneful, really rather fantastic second statement by a band who are rightly sure about what they're doing and loving every minute of it. Catch them on their biggest UK tour to date, which begins at The White Hotel on 14 November.