A Place To Bury Strangers at The White Hotel
Johnny James, Managing Editor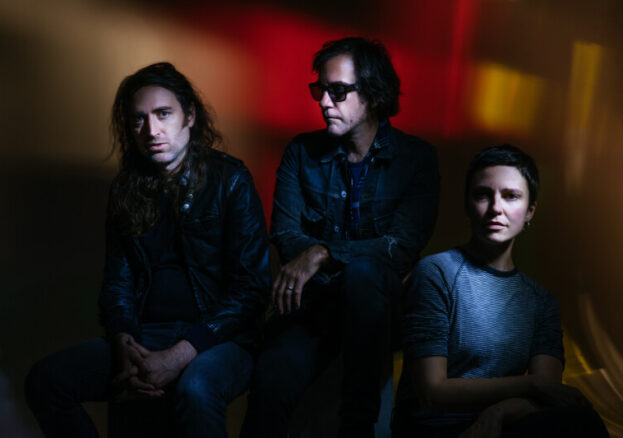 A Place To Bury Strangers return to the North West for the first time in eight years, bringing their lacerating blend of post punk, noise rock and shoegaze to The White Hotel on 23 May.
When A Place to Bury Strangers first came on the scene in 2002, bloggers and critics dubbed them "the loudest band in New York". Splitting the difference between post punk and shoegaze, their self-titled debut album coated lovesick indie pop in layers of deafening static and distortion. The accompanying live shows were, by all accounts, an exercise in audio annihilation, and helped earn the band a true cult following.
A Place to Bury Strangers is helmed by Oliver Ackermann, the founder of Death by Audio, a beloved line of custom guitar pedals. At that realisation, things begin to fall into place. "Never underestimate the power of the perfect guitar effects unit", begins Pitchfork's 2017 review of that debut album, whose inventive sonic contortions are summed up by the names of the pedals that Ackermann designed for the record: Interstellar Overdriver, Supersonic Fuzz Gun, Total Sonic Annihilation.
But it was album number two that really saw the band take off. They had a noble aim for this LP: "To create the craziest, most fucked-up recording ever". In thrall to shoegaze icons like Jesus & Mary Chain and My Bloody Valentine, the feedback-frazzled Exploding Head lived up to its title, perfectly balancing Ackermann and co's inclination towards industrial aggression with their melodic instincts. Songs like 'Keep Slipping Away' and 'Everything Always Goes Wrong' remain some of the trio's (and yes, the huge sound you're hearing is a trio) strongest.
Two noise and electronic experiments followed – 2015's Transfixiation and 2018's Pinned – before 2022's See Through You reignited old flames, placing the band's heroic doses of effects in the context of god's honest songwriting, delivered with the raw immediacy of their famed live performances.
The dark and explosive 'I'm Hurt' is a highlight, its video fittingly created under the frantic and hallucinatory direction of horror master Under Kinkle. Its flickering, kinetic visuals and undertones of dark ritualism will be familiar to anyone who's seen A Place To Bury Stranger's perform on a stage, the band's natural home.
Chaotic, shamanistic, LOUD. Expect unearthly delights at The White Hotel on 23 May. And don't forget your earplugs…