The Weavers Triangle
Alex Zawadzki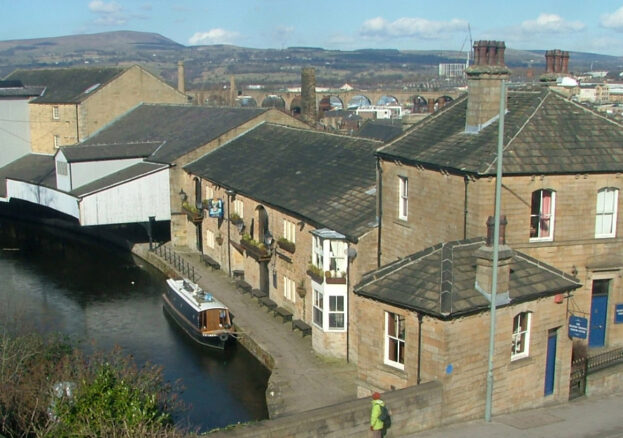 Burnley's textile industry was deeply connected to the waterways developed to transport goods and materials to and from its mills. The Weavers Triangle Visitor Centre is set on the banks of the Leeds and Liverpool Canal. A little drop-in space, the centre takes you back into the lived experiences and spaces of those who made the cotton industry keep turning, with an authentically recreated Victorian classroom, a typical home used by a mill worker, a toll house office and a bathroom from the later Edwardian period.
This museum tells you the story of cotton manufacturing and the lives of it's weavers. Located at Burnley Wharf, the building was one of many structures you'll see along the canal path developed from the 18th to 19th century to accommodate the growing cotton industry. This wharf building was used to collect the tolls for those who moved cargo along the canal paths, and as a waterside warehouse. Further down is Slater Terrace, a row of houses built to face the waterside. Both are architectural remnants of the canal's role as a kind of 'industrial' artery through these towns.
Not far up the canal path you can see a restored and working steam engine that operated in the mills – now powered by electricity to demonstrate the motions and the noises workers would have been accustomed to day in, day out. This is located at Oak Mount Mill alongside Glassmonkey Studios.
Walking in the opposite direction you will come across 'The Straight Mile', an unusual stretch of canal elevated 60 meters above town on a purpose built embankment. It is known as one of the 'Seven Wonders of the British Waterways', as it bypasses the curves and twists of the hilly landscape, and the need for multiple towpath locks to navigate the ups and downs. It affords you some fantastic views down either side of its slopes as you walk alongside its tranquil body of water.
Time your visit with the August Bank holiday and you'll catch the vibrant Burnley Canal Festival which makes great use of the aesthetic appeal of canal boat brightwork, the musical bells of traditional clog dancers and the canal's natural flora and fauna to devise workshops, installation, street theatre, adventure trails and a lively music stage for the two day affair.