Levens Hall
Ian Jones, Food and Drink Editor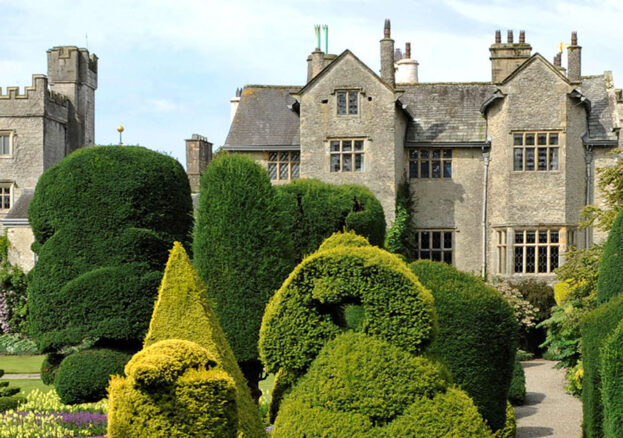 Levens Hall is a beautiful Elizabethan manor house, featuring the oldest surviving example of a topiary garden. The house and gardens are a joy to wander in, and the recently established Levens Kitchen provides delicious seasonal and local food.
Every room is filled with fascinating carpets, rugs, ornaments, and period furniture, so it's rather hard to do justice to the full effect with words. The Hall has a deep history, which the staff are happy to explain to visitors. The de Redman family who had owned the property since 1170 sold it to Bellingham family in the 16th century. The Bellinghams then enlarged and modernised the house but lost it in a game of cards. It was then acquired by Colonel James Grahame in 1688 and then passed through the Howard and Bagot families. Traces of the medieval fabric can still be discerned, pulled somewhat into order by the early modern rebuild, but the house retains a generous, multi-layered atmosphere.
The house and gardens are a joy to wander in
Hidden behind a small wooden gate you'll find the topiary garden, a wonderland dating back to the 1690s. Stretching over ten acres, the gardens, designed to delight, retain their style after all these years. Box and yew trees, trimmed into abstract geometric shapes, stand above a vast collection of bedding plants. This is a must for the horticulturally inclined.
Of special interest is a collection of artefacts relating to Wellington and Napoleon, but you'll also find silverware and paintings of all periods.
The Kitchen offers café fare and picnics during the day, and in the evenings hosts a very well-regarded Supper Club. The food is ever-changing and seasonal, but a glance at previous menus gives you an idea of what to expect: honey glazed duck, roasted fig, and candied walnut; vanilla confit salmon, with yoghurt, beetroot, and dill, followed by Norfolk turkey with trimmings and a range of exquisite desserts.