The Village Screen Pop-Up Cinema at Peak Cavern
Tom Grieve, Cinema Editor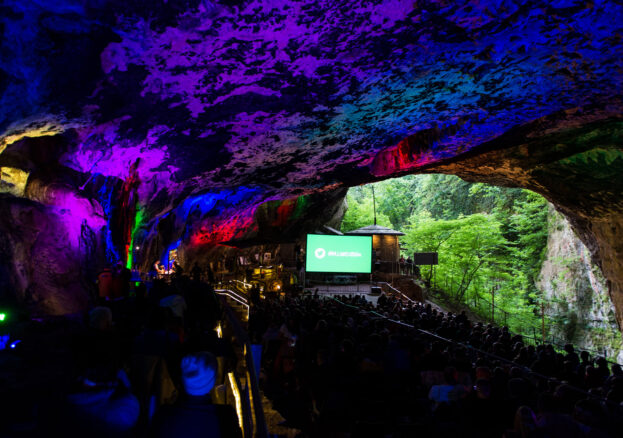 The Village Screen are transforming one of the UK's most spectacular show caves into a unique cinema experience this Spring, with four weekends of cult film screenings. Setting up in Castleton's Peak Cavern, the pop-up cinema specialists are taking The Village Screen experience underground. That means treating audiences to pre-show music entertainment, delicious street food and a fully stocked bar, before a meander through the village of Castleton to take your seats, where more refreshments will be available.
The screenings start late April and run through until mid-May, with a range of films scheduled to appeal to all kinds of movie lovers. There are cult classic from '70s musical The Rocky Horror Picture Show to Quentin Tarantino's Pulp Fiction to Ridley Scott's sci-fi-horror fan favourite Alien.
There's more family fare in the form of a trio of '80s adventures made up of kids action-fantasy The Goonies, Robert Zemeckis' time travel romp Back to the Future, and fairy tale themed The Princess Bride. Those looking to make the most of the subterranean atmosphere might want to go for cult vampire flick The Lost Boys, or the terrifying British caving horror, The Descent.
Showings of recent blockbuster, Denis Villeneuve's Dune, and Martin Scorsese's mysterious Shutter Island round out the listings — but no matter what you choose, The Village Screen is offering the chance to watch films in a cave, with street food and drinks — that's a memorable night out.