The One In The Woods
Johnny James, Managing Editor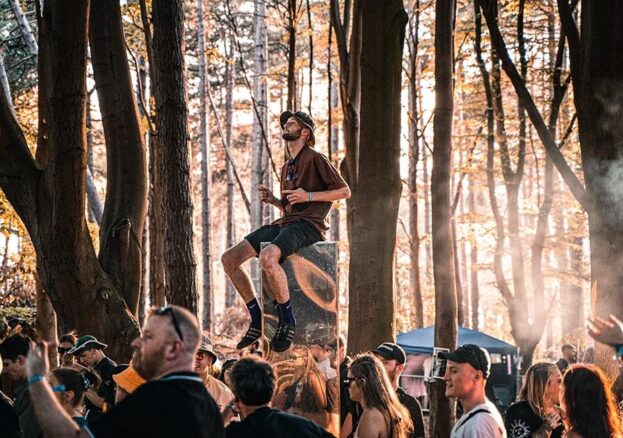 A relative newcomer to the North West's festival scene, Liverpool's One In The Woods hosts a serotonin-tickling selection of underground house, techno and drum and bass artists in a magical woodland location this July.
The community-minded festival launched in 2021, initially as a two day affair, lapped up by local dance music heads in the know. Buried at the heart of the Orrell Hill Woods, the escapist location matches the spirit of the event, which offers a "pilgrimage to another world". Helping you on your voyage this year will be some of the most respected names operating in the electronic underground: among them Joy Orbison, Special Request, DJ Seinfield, Call Super and Objekt.
The 2023 instalment sees the festival expand into a three-day experience, with weekend camping and weekend non-camping tickets available, depending how hardcore you are. There'll be four stages, hosting more than 120 artists, and all the extra-curricular bits and bobs you'd expect – pop-up shops, food vendors and the like, all plucked from the local community.
Back to our music highlights, Joy Orbison's up there. From floor-filling garage-house belters like 2009's 'Hymph Mngo' to his more recent turn towards a darker corner of the dancefloor, he consistently brings the fire. As does Special Request, the new rugged alias for house and techno stalwart Paul Woolford.
From DJ Seinfield, who's signed to Ninja Tune, expect sweeping emotive cuts, verdant dancefloor workouts and discerning dips into jungle and breaks, while Call Super and Objekt will be bringing… well… it's anyone's guess. They're both incredibly dexterous DJs who delight in challenging expectations as they pull at the threads of modern club music.
Elsewhere you can catch everything from dystopian electro (DJ Stingray 313) to the best in contemporary UK Garage (Interplanetary Criminal) – basically something to suit most electronic tastes.
The curation, the location, the fact that it's still flying very much under the radar – One In The Wood is sounding like one of the best small festivals going in the North West this summer.