The Land of Might-Have-Been at Buxton Opera House
Kristy Stott, Theatre Editor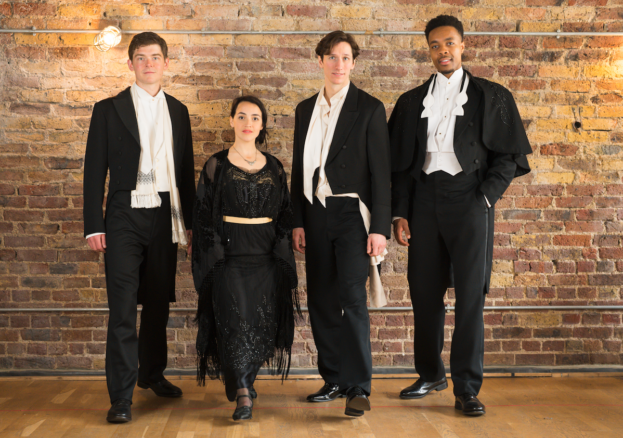 Head to the picturesque Derbyshire hills this summer for the world premiere of a ground-breaking new musical at Buxton Opera House. With a stellar cast that includes Olivier Award nominee Audrey Brisson, star of the hit West End show Amelie the Musical, this brand-new production promises to be one of the hottest tickets this summer.
Elegant and bold, The Land of Might-Have-Been, with book and lyrics by Michael Williams, is inspired by the early life of the pioneering English writer, feminist and pacifist Vera Brittain, who lived most of her early life in the region.
The story starts out in Buxton during the summer of 1914. A time of balmy light nights, ragtime and thrilling debutante balls; where chaperones were the curse of every young woman in love and the call of King and Country ignited the imaginations of young men everywhere.
Built around the songs of Ivor Novello, the production is set during the first part of the twentieth century and is loosely based on the experiences of Vera and her brother Edward.
The musical follows the lives of Vera, her soon-to-be fiancé Roland, and Vera's brother Edward and their close friend Bobbie. Although, young and ambitious, with glittering futures ahead of them, they also face the prejudices and conventions of their time.
A story of love, hope and defiance, this brand-new production brings together the legacies of two truly inspirational people.
Determined not to become a traditional young married woman, Vera wants to attend Oxford University and live an independent life. Meanwhile, her brother Edward dreams of becoming a musician and composer but must conceal his love for Bobbie from his family and society. Roland wants to be an acclaimed poet and study at Oxford University and Bobbie, although compelled to follow his father, wants to find a new way of life to include Edward. Incidentally, we've been told that this is the first time that Novello's love songs, which we understand were written for his life partner Bobbie Andrews, will be performed by two men in the context of a gay relationship.
Starring the phenomenal Audrey Bisson as Vera, this eagerly-awaited co-production by Buxton International Festival and Norwich Theatre also boasts an outstanding creative team. Written by Michael Williams, co-creator of the UK Theatre Award-winning opera Georgiana, the show will be directed by Kimberley Sykes and conducted by Iwan Davies, with arrangements and additional compositions by Iain Farrington.
A story of love, hope and defiance, this brand-new production brings together the legacies of two truly inspirational people – one of the most successful musical figures of the 20th century, Ivor Novello and the trailblazing author of Testament of Youth, Vera Brittain. Tackling themes of forbidden love and lost opportunity, The Land of Might-Have-Been promises to be a beautiful piece of theatre and a definite highlight of Buxton International Festival 2023.