Stepping Softly on the Earth at Baltic Centre for Contemporary Art
Maja Lorkowska, Exhibitions Editor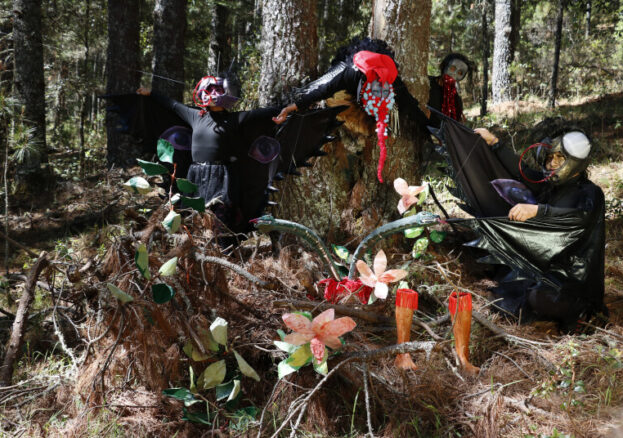 Baltic's newest exhibition Stepping Softly on the Earth showcases the work of non-Western and Indigenous artists and addresses the intricacies of human's relationship with nature from a decolonial perspective.
There's been a recent resurgence of interest in ancestral knowledge, Indigenous oral traditions and nature's wisdom in the art world and wider popular culture. This exhibition explores all of those themes and more, addressing inter-species connections and communication, mapping and legal frameworks.
The title of the show, Stepping Softly on the Earth, comes from the work of Indigenous writer AIlton Krenak and his book Ancestral Future. In the book, Krenak quotes a speech from Chief Seattle in which he says that his people "step softly on the Earth" because of their deep connection to it.
The display features artists from all over the world, so let's take a look at some highlights.
Maomi Rincón Gallardo is a multidisciplinary Mexican artist who creates alternative worlds. Her new video work Eclipse features Mesoamerican mythical figures related to death and dismemberment who appear in the face of multiple extinctions. Boldly colourful costumes mimic flowering trees and black butterflies dancing and writhing on a forest floor. 
Shereoanawe Hakihiiwe takes a more traditional, two-dimensional approach with drawing, painting and printmaking. The Yanomami artist creates paper from natural fibres which he uses as the surface for his abstracted visions of the natural world and its inhabitants. Insects, animals and plants are referenced in repeated patterns.
Iranian documentary photographer Solmaz Daryani captures the people and landscapes most affected by the climate crisis and water shortages. Her pastel-coloured images have a contemplative air. Although people are often at the centre of her compositions, they seem to fit seamlessly with the grandeur of nature that remains a constant throughout all of the series.
Stepping Softly on the Earth features many more artists and their individual visions focused on communities, ecosystems and the knowledge that comes from their connection, making for a captivating art encounter.