Serena Korda: The Bell Tree at Speke Hall
Sara Jaspan, Exhibitions Editor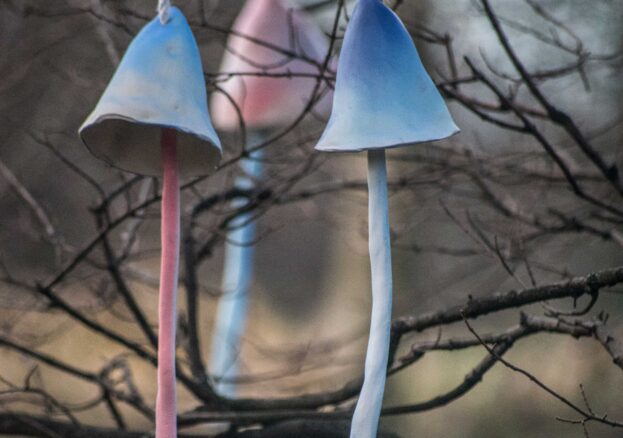 The UK is home to the world's largest population of bluebells, yet the stunning blue carpets that once rolled out over the English countryside each spring and decorated floral passages of pastoral verse are now a rare sight. The reason is largely connected to the widescale destruction of the ancient woodlands and hedgerows that once existed throughout our 'green and pleasant land' and where the flower most commonly grows. But perhaps it can also be traced to the long-term pattern of decline in the native fairy population (brought about by 21st century scepticism and too many utterances of the fatal phrase, "I don't believe in f******s"), rendering hyacinthoides largely impotent and defunct. After all, according to legend the bluebell is a specimen brimming with spells. One ring of its bobbing head or an imprudent trample through a cluster's path has the power to summon forth great packs of the magical winged creatures leading to the mysterious disappearance of whoever made the foolish blunder…
We therefore urge readers to approach Serena Korda's latest commission with extreme caution. Set in the ancient Clough forest at Speke Hall, her temporary outdoor sculpture and sound installation titled The Bell Tree responds to the contemporary artist's ongoing interest in alternative histories – and herstories – of folklore and witchcraft, whilst exploring the fascinating legacy of hidden rebellions surrounding the 16th century timbre-framed house (which sheltered the Norris family and their resident Roman Catholic priest throughout the turbulent years of the Reformation). Stood before the enchanting veil of hanging bells, which Korda makes using a traditional slipcasting technique (which many will recognise from her recent exhibition at The Hepworth Wakefield), visitors are invited to download a digital audio track created to accompany the piece and immerse themselves in the 'ringing' of bluebells played by the bell ringers of St. Michael's Church in Garston (Liverpool) accompanied by an angry band of fairies performed by local choir Mostly Madrigals and a capella group Mouthful.
Providing you manage to escape the forest's magical powers (we advise sticking to the paths and not following any trails of breadcrumbs), complete your visit to Speke Hall with a tour of the excellently preserved National Trust Tudor house where you'll discover its priest hole and secret observation point built into the chimney of one of the bedrooms to allow the occupant to spot when people were approaching. Then head back into Liverpool city centre where a smaller component of The Bell Tree can be found in the outdoor courtyard garden at Bluecoat (where Liverpool Biennial 2018 is currently on show).
The Bell Tree is commissioned by Trust New Art – the National Trust's programme connecting people to our places through contemporary arts. Whilst you're visiting Speke Hall, make sure to also catch Stability and Survival – a remarkable indoor display and outdoor exhibition about the life of Miss Adelaide Watt; the independent and powerful Victorian woman who helped preserve Speke Hall and its important legacy for generations to come.