Scruff of the Neck TV
Johnny James, Managing Editor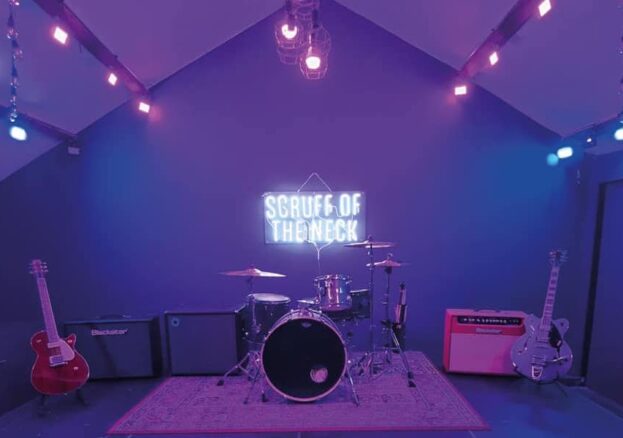 To celebrate the launch of their Twitch channel, Manchester promoter and label Scruff of the Neck will broadcast 10 live shows from their headquarters this January – a chance for artists and audiences to reconnect.
Scruff of the Neck have marked many milestones over the course of 12 years in the business, from scooping the prestigious 'Best Small Label' at the 2019 AIM awards to running a stage at SXSW in the USA. The pandemic has of course hit the label hard, but by fully embracing the modern era of digital streaming, they're leading the way towards a sustainable future for artists and generating work for the support industry around them.
Scruff of the Neck's new partnership with Twitch supports the production of 10 three-hour broadcasts over the final two weeks of January. Featuring live performances and interviews with emerging and established artists, these streamed events will, according to a statement, "focus on the celebratory essence of live and will hold a torch for the return of gigs around the country".
Hosted by BBC Radio 1's Abbie McCarthy, the series will feature Corella, Tim Gallagher, Larkins, Lucy Deakin, Ist Ist, Lottery Winners, Bamily, Bad Boy Chiller Crew, The Rills, Jack Curley, Devon, King No-One, Low Island, Dan D'Lion and Kid Kapachi. All acts will broadcast live from Scruff of the Neck's headquarters in Manchester.
Mark Lippmann, CEO & Founder of Scruff of the Neck, says:
"This partnership has revolutionised our business at a time when being adaptive and forward-thinking is crucial. We've converted both floors of our Manchester office into a broadcast-ready space with a stage, podcast area and recording studio. I have two clear visions for Scruff Of The Neck: the business vision is for streaming to be the lifeblood of the business and the cultural vision is for people all around the world to know Manchester for two things – Manchester United (football) and Scruff Of The Neck (music). This partnership is a catalyst for both."
Chris Brearley, Head of Live at Scruff of the Neck, adds:
"It's no secret that working in live music over the past year has been tough, both for artists and their teams. Partnering with Twitch, we're excited to be able to create new opportunities for artists to reconnect with their fans by offering high-quality, free-to-access live performances and programming. We hope that we can develop a space for new music discovery, while at the same time building an online community for those looking to immerse themselves in a gig experience and become part of the conversation around some of the most exciting talent on offer."
The 10-gig series is just the start of the label's new Twitch channel, and will lead to a regular schedule of performances, podcasts and interviews from February onwards. The full line-up of Scruff of the Neck TV's January streams is below. Each stream will take place between 7.30-10.30pm.
Corella + Tim Gallagher – 19 January
Larkins + Lucy Deakin – 20 January
Ist Ist – 21 January
Lottery Winners + Bamily – 22 January
Bad Boy Chiller Crew + The Rills – 23 January
Jack Curley + Devon – 26 January
Scruff of the Neck TV – 27 January
King No-One – 28 January
Low Island + Dan D'Lion – 29 January
Kid Kapichi – 30 January