Pyramid Open Show 2021
Alice Hiley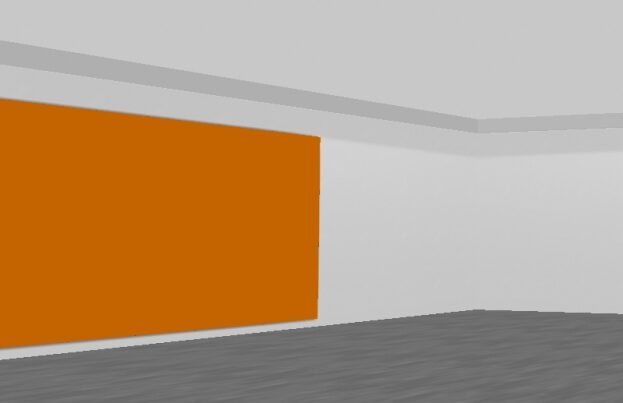 The Pyramid Open Show 2021 launched on 25th February with a special online exhibition. The digital gallery, live until 31st July, features work by seven artists, selected by Pyramid's Curation Circle from over 350 submissions.
The Open Show showcases the talents of both emerging and more established artists from all over the world. The artists were asked to respond to a sensory call out, comprised of the colour orange, the word ouch! and the sound of pink noise. As a result, the exhibition, designed as a virtual tour of a gallery building, is highly sensory, immersive and eclectic.
Click on the floors and walls to navigate through a series of vast "rooms". There is new work to discover in every area, each with its own distinct soundscape. Click on the "ear" symbols displayed on the gallery walls to watch pop-up videos of the artists in action, explaining the inspiration behind their pieces.
The Pyramid Open Show 2021 is best viewed using Google Chrome on a PC or laptop. Viewers using a mobile or tablet can watch a recorded video tour instead, to ensure they catch all of the work in the best light.
The dynamic exhibition includes work by photographer and embroidery artist AlabamaThirteen, paintings by Katherine Lubar, sculpture by mixed-media artist Henny Burnett, prints by Diana Terry, photography by Yael Kaplan and film works by Gabriel Massan and Honestly Casual Projects. The Pyramid Open Show 2021 is fully accessible with captioned and audio described versions available.
The event is led by Pyramid, a Leeds-based arts collective and charity which helps people with a learning disability to discover the arts, develop their talents and become world-class artists. The Pyramid Open Show 2021 is supported by Leeds Inspired and HM Government in partnership with the National Lottery Community Fund.