Psappha: New Traditions (3×3) at Hallé St Peter's
Johnny James, Managing Editor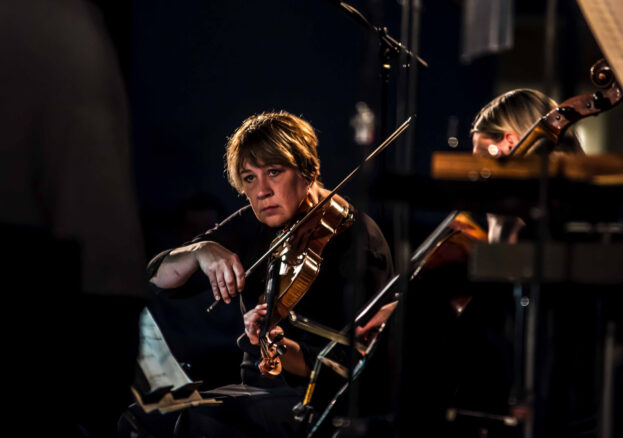 *Due to the new lockdown restrictions, this will now be a livestream-only event.
Betsy Jolas – Quatre Duos
Clare Elton – round and round and… – World premiere
Luciano Berio – Naturale
Helmut Lachenmann – Serynade
On 12th November, Psappha will present the second of three concerts featuring stunning contemporary music for scaled-back ensembles of three musicians. Livestreamed for free via YouTube, New Traditions will showcase works by Luciano Berio, Helmut Lachenmann and Betsy Jolas, as well as a world premiere by Clare Elton.
The concert will begin with a shape-shifting quartet of duets for viola and piano by Betsy Jolas, performed here by Vicci Wardman and Benjamin Powell. Born in Paris to a poet and a singer, Jolas studied at the Conservatoire National Supérieur de musique, under Darius Milhaud and Olivier Messiaen. Quare Duos (1978), a suite of women's portraits, showcases the rich expressivity of Jolas' writing, and reflects her interest in baroque music as well as contemporary styles.
There follows a world premiere: round and round and… by young composer Clare Elton. Written for Psappha, this solo piano work revolves around memory and the natural decay of the piano sound. Throughout, there is a playful exploration of the piano, whose range expands outwards as it traverses melodies inspired by folk songs and nursery rhymes. Working with and against the piano's decay and inability to sustain, the piece employs repetition and looping in order to 'hold on' to the music, to prevent the disappearance of sound, to remember.
Next, we'll hear a 1985 piece by influential Italian composer Luciano Berio. Dedicated to Aldo Bennici "in brotherly devotion", Naturale pairs its live players with a series of tracks on tape. The piece evidences Berio's longstanding interest in the fusion of folk music with the classical avant-garde, pairing recordings of Sicilian folk songs sung by a Palermo street singer with a scintillating, often haunting score for viola and percussion. It's an alchemic fusion that's sure to leave a lasting impression, performed by Vicci Wardman (viola) and Psappha's Artistic Director, Tim Williams (percussion).
There's similar alchemy at work in Helmut Lachenmann's first large-scale piano work, Serynade, with which Benjamin Powell will close the concert. Written by the German composer in 1999, Serynade is a tour de force that explores the piano's sonic range while also tipping its cap to the instrument's place within concert-hall convention. As with much of Lachenmann's music, the work features a complex metamorphosis of isolated notes and chords, which are left to hang ethereally in mid-air. Through the use of pedals, reverberations are made to modulate, drawing out a hidden world of harmonics.
This concert was originally due to be performed to a live audience at Hallé St Peter's. In light of the second lockdown, it will still go ahead but it will be a livestream-only event. Head over to Psappha's YouTube channel to tune in live.