Psappha – Lockdown Series Premieres
Creative Tourist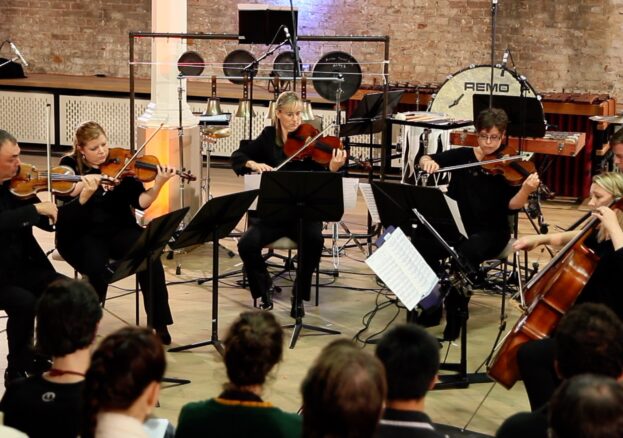 On 8 June, contemporary classical ensemble Psappha will close their 10-week series of YouTube Premieres with Verklärte Nacht (Transfigured Night) by Arnold Schoenberg.
Born in Vienna in 1874, Schoenberg is a composer of huge significance. One of the principal members of The Second Viennese School, he was responsible for two of the early twentieth century's great musical revolutions: atonality and serialism.
Composed at the end of the nineteenth century, Verklärte Nacht is widely considered to be Schoenberg's earliest important work. It's a symphonic poem for string sextet, whose five sections follow five stanzas of Richard Dehme's poem of the same name.
The poem describes a pair of lovers walking through a forest on a moonlit night, before the woman unveils a dark secret: she's carrying child of another man. Schoenberg's work begins with the sadness and anguish of the confession, before a reflective interlude and a finale that paints a picture of the man's acceptance and declaration that the child will be transfigured into his own.
The film Psappha are releasing on Monday was recorded at a concert they gave at Hallé St Peter's in 2014. The concert celebrated the 80th Birthday of Peter Maxwell Davies, Psappha's Patron until his death in 2016. Peter himself pored over the work in his student days, in the Henry Watson Music Library in Manchester, and was in attendance at this special concert.
Psappha's 10th and final premiere – for now at least – follows Anton Webern's arrangement of Schoenberg's Chamber Symphony No. 1, John Adams' Shaker Loops and George Crumb's Quest – all highlights in a series that has become a part of the socially distanced cultural calendar in recent weeks.
Catch up on any films that you've missed on Psappha's YouTube channel where the entire series is archived, and tune in on Monday for the final instalment.