New Mills Festival 2017
Chris Horkan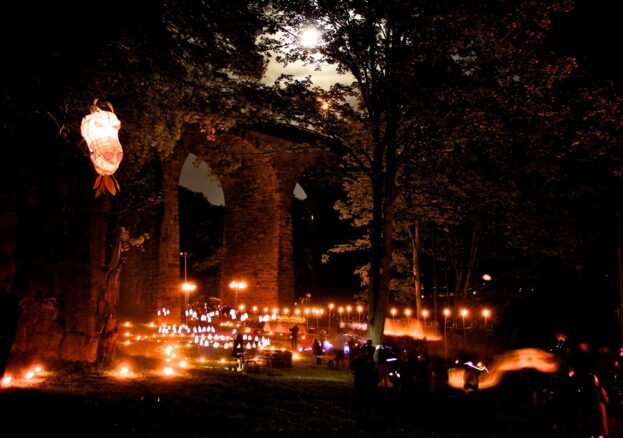 Just a short train ride from Manchester, New Mills is in the heart of the Peak District – and for two weeks this September, the picturesque town plays host to a festival of talks, walks, concerts, exhibitions, trails and more, culminating with a spectacular lantern procession through The Torrs Gorge and a street party in the town.
Running since the 1990s, New Mills Festival provides a focal point for the community, with an estimated 20,000 people participating in 2016. Highlights this year include Manchester (via Marple) art pop band Dutch Uncles, who kick off the festival with the opening gig on Saturday 9 September. Seven-piece gypsy folk group Holy Moly & The Crackers provide another musical highlight, when the close the festival in energetic fashion on Sunday 24 September.
In between, get involved in lantern-making and pinhole camera workshops, join the town-wide Art Trail, enjoy some poetry or a film screening, and sign up for the popular Drink & Draw event ('we provide the model and music, you bring your sketching materials and tipple of your choice').
Across 16 days and nights, New Mills Festival offers something for everyone.